Viz's Select line adds 2 former Tokyopop titles that I'm familiar with, but met with two different ends. Grenadier is a five-volume series I picked up because a friend has seen the anime, and told us about the most intriguing element of the story. The lead, a buxom blond, kept her bullets in said bosom and would reload her gun with some jiggling. Not joking. I picked up Red Hot Chili Samurai because it was a historical detective series. In the end, I gave Grenadier to said friend, and chased down the last two volumes of Red Hot Chili Samurai I could find. Tokyopop published 5 of the 8 volumes, but only four were easily found. I guess I'll be finishing up the series with Viz.
VIZ MEDIA ANNOUNCES NEW DIGITAL MANGA UPDATES FOR APRIL AND CONTINUES DIGITAL MANGA STARTER BUNDLE PROMOTION
Dive Into Digital Series Debuts For JOJO'S BIZARRE ADVENTURE: PART 2 – BATTLE TENDENCY, GRENADIER And RED HOT CHILI SAMURAI Along With A New Selection Of Manga Bundles And Updates To Dozens Of Continuing Titles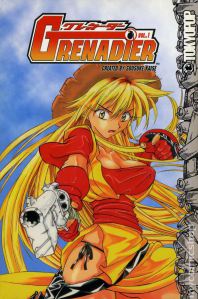 VIZ Media opens the month of April with a fresh digital manga update that features the launch of 3 notable new manga series as well as the latest additions to dozens of other popular continuing titles.
This month, readers are invited join the Joestar family for its latest multigenerational, action-driven exploits with the debut of JOJO'S BIZARRE ADVENTURE: PART 2 – BATTLE TENDENCY. Then join a buxom and beautiful female gunslinger for wild adventures in the new series, GRENADIER, and slice up some spicy samurai inspired fun with RED HOT CHILI SAMURAI.
VIZ Media also continues its popular Digital Manga Starter Bundle Promotion throughout April. The latest selection of manga bundles are available for a limited time until April 30th on VIZManga.com, as well as through the comiXology platform. These specially curated digital bundles each contain multiple volumes from popular VIZ Media manga series at a substantial savings over the regular digital MSRPs.
This month's selections offer readers the opportunity to enjoy unique multi-volume collections of several acclaimed VIZ Media series including CHIBI VAMPIRE, DENGEKI DAISY, TERRA FORMARS and TORIKO.
New April Digital Manga Series Debuts:
JOJO'S BIZARRE ADVENTURE: PART 2 – BATTLE TENDENCY, Vol. 1 ·
Rated 'T+' for Older Teens · Digital MSRP: $10.99 (U.S. / CAN) ·
Available April 21st!  
The beginning of the Battle Tendency Arc! The Joestar family is called upon to do battle against evil again! This time, it's Joseph Joestar, the grandson of Jonathan Joestar! And his enemies are more powerful and diabolical than ever! Behold! The terror of the Pillar Men!
GRENADIER, Vol. 1 · Rated 'T+' for Older Teens ·
Digital MSRP: $4.99 (U.S. / CAN) · Available April 21st!   
Rushuna is a golden-haired Senshi – a gunslinger who travels the land with one purpose: to make the world a peaceful place. However, her journey of nonviolence is never easy, and when she joins forces with an ambitious samurai, you better look out! Rushuna just might be forced to display her amazing gun skills-and she's got two big ones!
RED HOT CHILI SAMURAI, Vol. 1 · Rated 'T+' for Older Teens ·
Digital MSRP: $4.99 (U.S. / CAN) · Available April 28th!
Samurai Kokaku Sento likes peppers. Scratch that – he loves them! The only thing Kokaku likes better than eating a hot chili pepper is helping his father kick the butts of bad guys! With the help of his bespectacled friend Ento and cutie-pie girl of action Ran, Kokaku will take a bite out of crime – but not before biting a spicy pepper first!
VIZ Media's Digital Manga Starter Bundle Promotion continues through April 30th on VIZManga.com as well as comiXology.
CHIBI VAMPIRE Bundle · Promo MSRP $45.00
Bundle includes:
CHIBI VAMPIRE Vols. 1-14 + AIRMAIL
DENGEKI DAISY Bundle · Promo MSRP $30.00
Bundle includes:
TERRA FORMARS Catch-Up Bundle · Promo MSRP $25.00
Bundle includes:
TORIKO Bundle · Three Available Bundles To Choose From
Available bundle selections:
TORIKO Vols. 1-4 "Appetizer Dish" MSRP: $12.00
TORIKO Vols. 1-10 "Salad Dish" MSRP: $20.00
TORIKO Vols. 1-15 "Main Dish" MSRP: $30.00
Additional digital manga content for April includes updates to 24 other continuing series. Included in this month's update are exciting new volumes for popular continuing titles such as ASSASSINATION CLASSROOM (Vol. 3), BLACK LAGOON (Vol. 10), DEADMAN WONDERLAND (Vol. 8), MY LOVE STORY!! (Vol. 4) RATMAN (Vol. 2), and SKIP BEAT! (Vol. 34), as well as must-read series finales for HONEY BLOOD (Vol. 2), METEOR PRINCE (Vol. 2), and WISH (Vol. 4).
Readers can enjoy all of these new manga titles that are available on VIZManga.com and the VIZ MANGA App for the iPad®, iPhone® and iPod® touch, Android-powered smart phones and tablets. The titles may also be purchased through the Nook, Kindle, Kobo, comiXology, iBooks and GooglePlay stores. These dynamic digital platforms offer fans the opportunity to explore and enjoy a massive catalog of new and classic manga titles that spans over 2,600 volumes across more than 225 different series.
The free VIZ Manga App continues to be the top application for reading digital manga and features a massive library of the most popular series in the world. Through the innovative VIZ Manga digital platform registered users are able to use one account to view their purchased manga across more devices than ever. New series and volumes are added every Tuesday. Fans can also find these titles and more for the NOOK, Kindle Fire, and Kobo eReaders, as well as in the comiXology, iBooks and GooglePlay Stores.
Most manga volumes are available for purchase and download in the U.S. and Canada within the VIZ Manga application starting from only $4.99 (U.S. / CAN) each. Readers can also explore free Chapter 1 previews of every series. For more information, please visit VIZManga.com or www.VIZ.com/apps.
To learn more about VIZ Manga, please visit www.vizmanga.com.