The truth about Xerxes Break's past is revealed in these volumes as is more about Alice and her relation to the Intent of the Abyss. Oz continues to pursue the truth behind the tragedy of Sablier, and he, Gilbert and Alice go to the remains of the city. Vincent and Gilbert's past is revealed along with more about Glen Baskerville and Jack Vessalius, but when Oz's incuse moves forward, it is a reminder that his time is running out.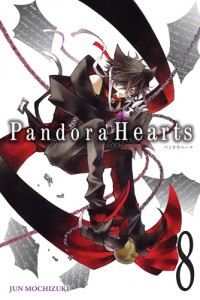 By Jun Mochizuki
Publisher: Yen Press
Age Rating: Older Teen
Genre: Fantasy
Price: $11.99
Rating:





There are a lot of revelations made throughout these volumes, about Alice, about the Abyss, about the chains about Alice and Oz, but not a lot of questions are answered. We know the who's and how's but still not a lot about the why's, which is what will keep readers coming back.
Keeping track of all the revelations got to be a bit of a task. The only real saving grace was the way they all connected that told more of the story of the tragedy of Sablier. It was really all very timey-wimey. Xerxes Break fits in as a figure from after the tragedy looking to change the past with the usual tragic results. Gilbert and Vincent turn out to be pieces to the puzzle as well with connections that were rather unexpected. The real reason for the tragedy leads back to an event that affected Glen Baskerville to the point that controlling the Intent of the Abyss was the only way he knew to change it, and Alice is the key to it all. But we still don't know the full story behind that event, which as the root, really needs to be revealed before any real answer can be disclosed.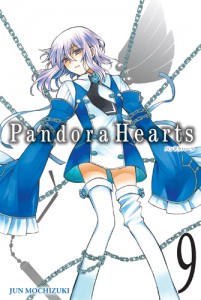 Most of these revelations delved into the tragic. Xerxes only wanted to save his Master, but instead destroyed a whole family. Gilbert and Vincent had a tragic childhood that shaped who they are. The events are especially tragic for Vincent, as he is shunned as a child of ill omen, and tries to save his big brother, to such results that he is truly driven insane. Though, I don't think he was really all that stable in the first place, with the way he tortures Alice, cutting up her dolls and then her cat (why is it always the cat?!). Even with all he's been through, I really can't muster any sympathy for him. He is a good match for Lottie Baskerville, who is just as psychotic.
I enjoyed the chapters with Oz taking Echo out on the town during the Blue Angel festival. It had a lot of sweet moments, and was one of the few moments that helped get me through all the tragedy that followed. Though I wasn't happy with what happened to Echo afterward. Guess you can't have the happy last too long in this series. I also felt sorry for Alice in the past. She didn't deserve the hate that was piled on her, and her fate at Glen Baskerville's hand probably wasn't going to be a good one. Jack asks not to be called the Hero of Sablier because of what he was forced to do to stop it, but what Glen planned wasn't any better. If anything Jack's remorse only reinforces his heroism, especially considering his fate.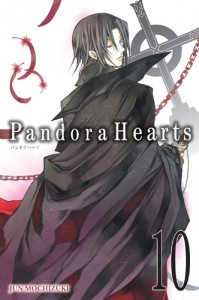 Also included in these volumes was the pilot story for Pandora Hearts. I enjoyed it just as much as what it became. It keeps a lot of the elements, with chains and characters from Alice in Wonderland. Gil and Oz are still together, and Oz is chained to the B-Rabbit, but it takes a slightly different form. It was a good, action story, and quite enjoyable.
I don't know that I can say I enjoyed these volumes, but they were good, compelling reads. The few moments of camaraderie between Oz, Alice and Gilbert were uplifting, and Alice's first attempt at a kiss was cute. But it seems tragedy is meant to rule this series as a meeting between Oz and his father is anything but warm, and with the forward movement of Oz's incuse, he takes another step toward losing himself and becoming more like the B-Rabbit. Pandora Hearts continues to keep me coming back, as it's questions are too fascinating to let go.
Review copies provided by Publisher.