A few things I want to get off my chest first.
Viz–
Afros are for frogs and fists get their strength from the North Star and not nose hair. Bobobo-bo Bo-bobo must Gogogo-go Go-gogo!
Bleach may make your whites look good as new, but it's not going to do the same for Shonen Jump. Recycling is for cans, bottles and newspapers, not manga!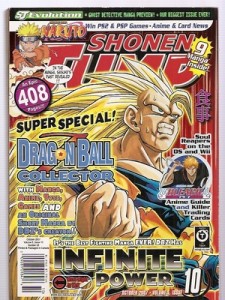 I don't know why, but these changes to Shonen Jump have really been bugging me. Why add these two titles? Why now? Bleach has been doing just fine on its own. It's been making the USA Today Top 150. The only real logical reason to move it is to try to build Shonen Jump sales, if they are in fact slumping. (We don't know SJ sales figures). And Bobobo-bo Bo-bobo, I really can't believe they had a huge amount of requests to add this to the magazine. Viz only put out one volume in 2005 (which you can't even find on their website), and they've started it's serialization at chapter 110? That doesn't sound like a serious commitment to me. It really made me think. What was so special about these two titles? Then, it hit me. They're both shown on Cartoon Network. With this realization, the changes suddenly made sense.
This is all about marketing. Anime showing on Cartoon Network has equated into better sales of manga, to the point that the effect has been given a name. The Cartoon Network Effect. Naruto and Bleach have seen the biggest boosts, shooting onto the USA Today Top 150 with each new volume. And here's Viz, with a manga property that they seemingly couldn't to get to go anywhere on its own, that suddenly has greater exposure through TV and DVD sales. The potential for sales was probably too great for them to ignore. Putting Bobobo-bo Bo-bobo in was probaby a cheaper way to get it out again and gauge reader reaction through their monthly polls. I really don't think this manga would have made any kind of return without the anime being aired.
Bleach, on the other hand, was doing just fine before the anime, and has since exploded into a full merchandising property, like Naruto, Yu Gi Oh! and Dragonball Z. These heavy hitters launched Shonen Jump, and since, Dragonball Z graduated and finished, and Yu Gi Oh! is on the verge of ending, Viz needs another heavy hitter to keep driving the magazine. Bleach is the only title that fits this need right now. So, for the US version of Shonen Jump to continue to appear to be the home of "The World's Greatest Manga", Bleach had to be demoted. Now, Viz can put in more ads for other merchandising (such as toys, t-shirts and trading cards) and tie it more closely to the manga.
While I do understand companies want and need to succeed to survive, and that marketing is the best way to do that, it can also get out of hand. Inbreeding, no matter what medium only comes to no good. Bobobo-bo Bo-bobo probably had to join Shonen Jump to drum up any kind of readership, and even though I don't like it, I can't blame Viz for wanting to get something back from their investment. But Bleach didn't need to join the magazine. It has done just fine on its own. It should have been left to keep standing.
What Shonen Jump really needs is new blood, a new property. There hasn't been a new series in the magazine since Hikaru no Go (I don't count Yu-Gi-Oh! GX, as it's just an extension of Yu-Gi-Oh!, and nothing really new). It's new blood that gets people excited. Look at the sister publication Shojo Beat. It's had just as many changes, but it keeps getting infusions of new series, and in long run will probably out shine it's older brother. She's treading new ground and evolving while He's going in circles and devolving.