I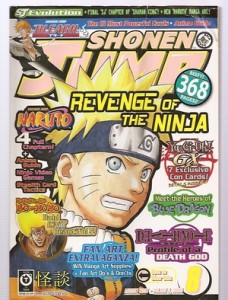 'm back and mostly recovered from SDCC. I was there for three days, Fri, Sat, and Sun, with my family, so I wasn't able to hit all the panels, but I did get to go to a couple of manga related. We got to the convention center and through registration just in time for me to go to the Shonen Jump Panel, one I was looking forward to go to. Now, I've talked about my feelings on the changes for Shonen Jump so far here. For over a month now, Viz has been hyping the new title to be joining Shonen Jump, with Shaman King leaving, Naruto winding down to normal, and another title ending naturally. Anyone reading the magazine knew what the ending title was, Yu Gi Oh!. That was no big surprise. And Marc Weidenbaum, editor-in-chief of the magazine didn't leave us in suspense about what the new title was going to be. As everyone has heard by now, it's Bleach.
I was ambivalent about this announcement at first. I like Bleach. I think it's a really fun title, and would be a good fit with the magazine. But the more I thought about it, the less of a good idea I found this to be. Yes, I know Bleach is getting close to catching up to the Japanese releases. Eight more as of June. With the current release schedule that's still over a year away from catching up. Not a good reason to put it in the magazine, I think. If they really wanted to slow the releases down, they could go to a 3 or 4 month release schedule just as easily. I don't take this as a good reason. The reason given at the panel was because readers has requested it. Well, readers request a lot of things, and they aren't always good. Bobobo-bo Bo-bobo is a really good example.
No, what really bothered me the about this over-hyped announcement, is that it's just recycling a Shonen Jump title already available. I was expecting something new! I was under the impression that the changing out of titles would be for something new and fresh, not something I've been reading for the last two years! And it's not like they don't have plenty of titles to choose from either. There were plenty of manga announced licensed just before and at SDCC. The Blue Dragon manga tie-in Ral Ω Grad would have been a much better choice I think. It's been announced for a 2008 release with only two volumes out so far. They're going to have to space out the releases anyway, may as well have a good reason to. And at least it's NEW!
This change really feels like a veiled attempt to get more people subscribing to Shonen Jump. Bleach is enjoying a lot of popularity right now, with the anime, and toys coming out for it. It's following the path that Naruto did. And getting two heavy hitters in the magazine is how Shonen Jump started, with Dragonball Z and Yu Gi Oh!. But this isn't the way the get new readers in. What worked once may not work again. We need new titles to get excited about, not something we knew we're going to get either way.
Evolution implies something new and different occuring to move forward. This is a big step backwards. There is nothing new or exciting with the change. If our ancient ancestors chose to just keep treading over the same territory instead of expanding out all over the world and evolving, you would not be reading this blog right now. Please, Shonen Jump! Start taking steps forward again!