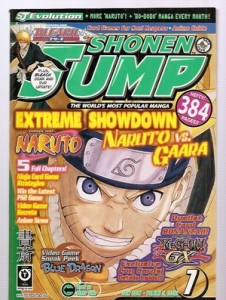 Now, I really don't mind the recent changes that were announced in the recent issue of Shonen Jump. This certainly isn't the first time that a series has been taken out of the magazine to continue in graphic novels. Dragonball Z left after just over a year, and Yu-Gi-Oh! took out the "Duelist" arc to continue with the shorter "Millenium World" arc. I really didn't mind these changes, since the series' brought in only improved the magazine. I wasn't sure if I was going to like Hikaru no Go when it was first announced, but it turned out to be an excellent series. Bobobo-bo Bo-bobo is not. I'm sorry, I didn't like this series from the preview chapter they ran a year or so ago, and after reading the latest chapter, I still don't like it.
I really enjoyed Shonen Jump magazine because it would have entertaining, quality series, and of late, the only squabble I had was that there were so many running that I was only getting one chapter a month instead of my usual 2-3. Lately, it's been Naruto, One Piece, Shaman King, Hikaru no Go, Yu Yu Hakusho, Yu-Gi-Oh! Millenium World, Yu-Gi-Oh! GX, and Gintama (another series I *really* didn't care for). That's 8 series when it's usually only 5! But Yu-Gi-Oh MW is nearly over and Gintama is temporary, just through the first volume. I was really looking forward to getting thing back to normal (except for the expanded Naruto, which I don't mind). Instead, I lose a series that I REALLY liked and have to wait 6 months for any new chapters and get stuck with a series that just plain sucks. I'm sorry, there is just nothing funny about Bobobo-bo Bo-bobo. It's stupid characters doing stupid things using stupid jokes.
With the whole library that Viz has access to, this is the best they can come up with, a series that was already being sold as graphic novels? Were sales of Bobobo-bo Bo-bobo so bad that they thought this would improve them? Sorry Viz, but just because more people are exposed to a series doesn't mean they're going to like it. I hope Viz come to their senses soon and gives us readers back good, quality stories instead of mindless drivel. I get enough of that on TV. I want my reading to be a step up from that, not a step down.