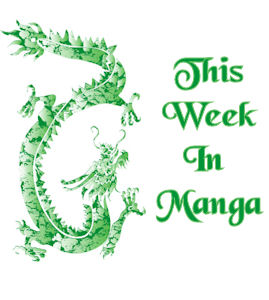 Movable MANHWA Feast
This week started the June edition of the Movable Manga Feast, with one slight change. The manga is actually a manhwa, or Korean comic. The title chosen was The Color of… Trilogy. These three books are about a young girl growing up in turn of the century Korea. This edition's host is Melinda Beasi of Manga Bookshelf. This Feast has turned out to be different, and not just because the books are from Korea. There were a lot more unfavorable reviews this time compared to other feasts. Most participants had more things they didn't like about the trilogy than did, and were more than happy to express them. Some of the conversations spilled over onto Twitter. While I had my own problems with the trilogy, I just didn't see the sexism that many other bloggers did. At least, not in the way that they did. Many had strong feelings about the books, but I didn't. I didn't see anything to really get worked up about. And even though the book is about the daughter, I found myself relating more to the mother. But that's probably because I'm a mother of 2 daughters myself. If you haven't checked out a MMF, this is one you definitely should. It's a very diverse range of opinions, well worth checking out.
The Games Aggegators Play
It seemed the like good guys had won. After the formation of the manga publishers coalition, scan aggregator sites seemed to be taking down licensed titles. On popular sites Onemanga and Mangafox, titles such as Naruto and Bleach were gone from the front page, but were they really gone from the site? Deb Aoki looked into it off of a tip from UK Blogger Kimi-chan and found that not only was manga not being taken off the site, a savvy user could find these titles and still read them. Not cool. As Deb's article goes on, it's not just translated scans that are still going up, it's also complete scans of the english published books that are going up on these sites. While I think one can argue that scanlations of unlicensed manga can exit as a grey area, putting up straight scans of not just licensed works, but works that were created in english (OEL) IS wrong. And it seems to be the fans who are responsible for a lot of these works appearing on the site, as Kimi-chan again reveals. This isn't going to be an easy battle.
Another Manga Publisher Blasted?
Lissa Pattillo of Kuri-ousity picked up the "indefinite" removal of three manga titles by publisher Media Blasters from online retailers. The titles are two BL, and Akihabara@Deep. Lissa also notes the distinct lack of information from the publisher, and these are two signs that in the past have spelled doom for a publisher. Media Blasters isn't exclusively a manga publisher, and they don't have a lot of books, but the ones they did license ran the gambit of genres. If it's a sales issue, maybe part of their problem is similar to CMX's. You gotta get the books into stores. I don't think I've EVER seen a Media Blasters title in any Barnes and Noble or Borders I've visited. That' can't be good for sales. What's really sad, it that the Akihabara@Deep volume, #6, is the final volume in the series. Not only might we lose another publisher, but it'll be another title left unfinished.
Beginnings and Endings
From Japan: Two manga currently licensed here will be ending their runs in Japan. Ouran High School Host Club, a popular shojo manga here will be starting its "final arc" in the July issue of Lala. Of course, that could mean another 2-3 volumes before the series ends. But we do know now that it will end. House of Five Leaves, which is published in Ikki will be ending its run in July, setting the volume count at 9. Viz publishers both of these titles. House of Five Leaves can be read at their Sigikki site, though the first volume has been delayed and will be released in September. On this side of the Pacific, Del Rey has announced 2 more "Odd" Thomas adaptations. The first volume got mixed reviews, but they must has sold well enough for Del Rey to commission two more.
NYT Best Sellers List
There's still some variety on the list this week. Viz still holds 5 of the 10 spots, but some of the other publishers are still hanging on, and that's a good sign! First, Twilight is still at the top of the Hardback list. Yen Press must be thrilled with this one. In manga, Naruto vol 48 holds the top spot again at #1, and is still followed by Vampire Knight vol 10 at #2. Soul Eater vol 3 from Yen Press debuts at #3, pushing Bleach vol 31 back to #4. Hellsing vol 10 and Black Butler vol 2 both take a step back to spots #5 and #6, with Yu-Gi-Oh! R vol 5 staying with them at #7. Negima! Magister Negi Magi vol 26 gets a third week in a row on the list, and a second week at #8. Naruto vol 47 holds on to the #9 spot while Alice in the Country of Hearts vol 3 falls 2 to #10. Yen Press has the only new entry to the list this week, and is the only publisher to have more than one title, other than Viz of course. I'm happy to see Hellsing sticking around. Guess a lot of people wanted to read the end.
Manga For Your Ears
Manga Out Loud
Spiraken Manga Review
This Week at Manga Village
What I've Read
One Fine Day vol 2
20th Century Boys vol 9
Time and Again vol 2-3