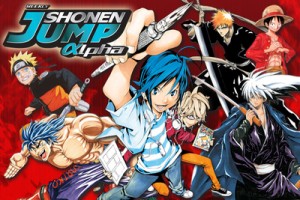 The first day of panels at NYCC/NYAF was certainly full of surprises. And it started right off first thing in the morning for me, at 6:30 am (PST) when news started on Twitter about Viz Media's big announcement. Weekly Shonen Jump Alpha will be a digital manga magazine that will run new chapter of the manga Bakuman, Bleach, Naruto, Nura, One Piece, and Toriko two weeks after they run in Japan. The magazine will be available through Vizmanga.com and through the iOS apps. The price is $25.99 for 48 issues, or you can rent single issues for .99 for 4 weeks. I'm a little confused on the .99 rental though. I've seen it described as .99 a month, which implies only paying .99 for four issues which is a lot better than 25.99 for a year, unless of course, the year subscription means you can keep the issues permanently. Whether the weekly issues are for keeps or for a limited time as the Nura serialization is now hasn't been clarified. The digital magazine will start in January 2012, with the print magazine ending with the March issue.
I can't say I'm thrilled with the new line up. One Piece and Bakuman are the only ones I'm interested in, and the fact that I can only stream the titles, since no one wants to even try to make an android tablet app (hint: if it's so hard to do an app with all the different flavors of Android, then just do what most pub do now anyway; make just a tablet app on Honeycomb), this severely limits my ability to take the mag and "read anywhere", something I can currently do with my print mag. I'm going to need more details before I decide to stay with the digital magazine. I'll also admit that I'll miss reading Psyren and Yu-Gi-Oh 5Ds. They aren't titles I want to actively go after, but I enjoyed reading them in the magazine. Now, Shonen Jump is returning to it "only the top sellers can appear" approach, which is a shame, since going digital should be the opportunity to experiment. And I agree with others on Twitter, that a Shojo Beat digital magazine would be awesome.
Next came Yen Press and Seven Seas with new license announcements. Yen Press announced Soul Eater Not, a side story to Soul Eater. I wasn't impressed with the first series, so I don't anticipate caring much for this one. They've also announced it will appear in the current issue of Yen Plus, but is that going to be permanent, or just a couple of chapters to push the series as High School of the Dead Color was, and a way to pad the scant Japanese side? I like that Yen is continuing to adapt YA novels, the newest editions being Infernal Devices, which sounds interesting, and a Dark Hunters side story Infinity. And I'll admit to some curiosity to the Japanese licenses Madoka Magica and Until Death Due Us Part. I might check out Alice in the Country of Hearts, a Tokyopop license rescue (that they said they wouldn't do…) I missed it the first time around.
Then Seven Seas hints at a new license through anagrams again on Twitter, which turns out to be the sequel to Alice in the Country of Hearts, Alice in the Country of Clover. This was a pleasant surprise and a boon for AitCoH fans. Seven Seas also announced the new title from the creator of Dance in the Vampire Bund. Angel Para Bellum takes on christian mythology with a battle between heaven and hell brewing and only a boy named Mitsuru holds the key to preventing it. I think Supernatural has killed my interest in such stories, but I'll check ou the first volume if given the chance.
Kodansha announced two new licenses, Attack on Titan and Miles Edgeworth. I don't know how much Attack on Titan will appeal to me, but if I like the Phoenix Wright manga, I might check out the Miles Edgeworth. They also announced omnibuses of former Del Rey titles Genshiken and Kitchen Princess, two good titles to keep in print. And then there was the obligatory iOS app announcement (yawn).
Vertical had the biggest surprises for me. The licenses lately haven't been my cup of tea, with Princess Knight being the only new title I really wanted to read. But in their announcements at their panel, they had two that really piqued my interest. I"ve heard a lot about Osamu Tezuka's Adolf (Messages to Adolf), but it's been out of print for so long, I didn't hold by breath at ever reading it. Until now. It will be releases in 2 hardback volumes next year. Sakuran really looks intriguing too. It's a historical title about courtesans in the Edo era. And I can't resist historical titles.
While all of these announcements sound great, I'm going to remain cautiously optimistic about them. What looks good in a press release might not be so great in reality. So I'll watch and wait for now. Most of the books announced won't be out until next summer, so there's plenty of time for things to change. Only the digital announcements have any immediacy, and only Viz's really concerns me. But it's still nice to see things to get excited about again.