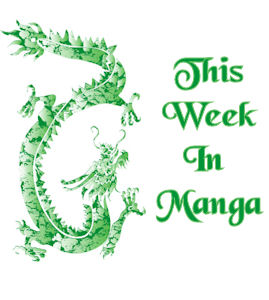 Anime Boston/Wondercon Roundups
Two comics/manga related cons occurred this last weekend.  On the West Coast was Wondercon, the smaller, younger brother of SDCC, located in San Francisco.  While more comics based, it seems Hollywood is taking every opportunity to jump on the popculture bandwagon.  Manga related, Viz Media had a booth, as did CMX, Last Gasp, and EigoManga.  Deb Aoki of Manga.About.com has an overview of the con as well as links to other coverage.  Over on the East Coast, Anime Boston took place.  While mostly an anime con, many manga bloggers attended and even held panels.  Vertical, Inc. had a panel, and Ed Chavez, marketing director for Vertical as well as creator of Mangacast hosted a panel of manga bloggers.  The big news from the Vertical panel was the license of a title from a mangaka once published by Viz Media.  Calling it "Manga Series R" the clue is that the "R" refers to either the mangaka's name or manga's title.  I voting (hoping) its Leiji/Reiji Matsumoto.  Brigid Alverson has a full rundown of the Vertical panel at Robot 6, and you can hear the audio from the Manga Mania panel by scrolling down to the Ninja Consultant's like in the Manga For Your Ears section of this post.
iPad Thoughts
Let's get the elephant in the room out-of-the-way.  The iPad was released this weekend.  Yes, it sold 300,000 units.  But I believe that Apple's entry into the tablet/e-reader market isn't the be all/end all that people are making it out to be.  The iPhone was a surprise hit (even to Apple), and hardware developers have been working hard to catch up, and you can say the Google Nexus One is a good if not better competitor.  And as Matt Blind so wonderfully points out (don't let all the numbers weigh you down), the iphone is only a small percentage of the cellphone market, and the iPad will be as well, especially with more hardware and software makers throwing their hats into the e-reader/tablet ring.  He also links to an article by Cory Doctorow at Boing Boing that makes a very good point (whether you agree with the rest of his argument or not), that publishers shouldn't put all of their e-books in one Apple basket.  Then Rob McMonigal of Book Stew lays it all out on why he's not getting any e-book readers right now.  My personal opinion, after listening and reading about iPad first impressions is to wait.  There are so many e-readers/tablets in the wings, that committing right now just doesn't seem like a smart thing to do.  As much as I love the "pretty-shinnies" this just isn't the time for what could be tossing money to the wind.
Final Nails in the Coffin?
Some of the smaller manga publishers have been quiet, implying that they're not weathering this tough economy very well.  Aurora has been especially quiet, with they last release being some time last year, and books sold at fire sale prices.  Another nail in their coffin, the titles they had up on Netcomics.com are being pulled down next Wednesday, April 14, 2010.  It could be that they tried online with Netcomics and it didn't work.  Or it could be a sign of something worse.  Then, from Icarus Publishing, comes news that a "Manga Publisher in the Southern California area" was up for sale.  This seemed to fit Aurora to a T.  Digital Manga is located in SoCal, but they don't seem to fit.  Go Comi! is as well, and could be a possibility.  ANN has been researching the story, and say Aurora denies they are for sale, but I wouldn't be so sure.  They're Ladies Comics line never really took off, and their BL didn't get much attention.  But it's all just speculation at this point.
Shonen Sunday Cross Over
Word came in March through a Simon and Schuster listing that Viz was going to be releasing the baseball manga Cross Game.  Finally official word has come that Viz will not only release the manga, but will also preview it on  their Shonen Sunday website starting in May.  I think this is a good move on Viz's part.  Cross Game has a visual style that may not appeal to readers at first, enough to buy the first volume.  Letting them read it online first, especially 5 months in advance of the first volumes release could really build up some hype for the title, beyond the mangasphere.
Two New Rescues from the Seven Seas
Seven Seas Entertainment has announced they have rescued two manga titles from two different publishers that were also fan favorites.  Gunslinger Girl was first published by ADV Manga, who over 5 years released 6 volumes.  Seven Seas will be re-releasing this 6 volumes with new translations and lettering in an omnibus format, and then beginning releasing new volumes starting at volume 7.  Blood Alone was released by Infinity Studios, with 4 volumes released over 2 years.  Seven Seas will release the first 3 as an omnibus edition with the 4th volume to follow soon after.  These titles will be available in 2011.  I was never too interested in Gunslinger Girl (Ed Chavez of the MangaCast is if you want more info), but I heard some good things about Blood Alone.  It's good to see these titles return.
Manga as Eisner Nominees
The Eisners were announced this week, and manga made quite a showing, and not just in the Best U.S. Edition of International Material – Asia.  Best Continuing, Best Reality, Best Graphic Album, Writer/Artist, Lettering, and Comics-Related Book all had nominees from manga.  Of course, most of those are from Naoki Urasawa for Pluto and 20th Century Boys, but that because it's most definitely deserved.  A Drifting Life and A Distant Neighborhood also got nods.  It's good to see manga stretching out from the International category, and into more general comics related categories.  Now, if only we can get a win.  I know Pluto blows out a lot of its competition.
NYT Best Seller List
Once again Twilight: The Graphic Novel vol 1 rules the Hardcover roost.  But why isn't it considered manga? Robin Brenner of Early Word and Librarian Extraordinaire looks at just that question.  Warriors: Clan in Need vanishes from the list completely after only 1 week, allowing Naruto vol 47 and Bleach vol 30 to return to their #1 and #2 spots. xxxHolic vol 15 is pushed back one to #3, and Black Butler vol 1 moves back into the top five to #4.  Soul Eater vol 2 falls into step at #5 and Vampire Knight vol 9 falls back another spot to #6.  Melancholy of Suzumiya Haruhi vol 5 moves up one to #7 while Fairy Tail vol 10 falls back two to #8.  Alice in the Country of Hearts vol 1 switches with vol 2 to come back in at #9, and the only debut title of the week is Trinity Blood vol 12 at #10.  It's good to see Del Rey hold some traction and stick around for this week.  I do think it's odd that last week's #1 would vanish so quickly, but this isn't the first time, and surely won't be the last.  The ratio remains at a good level with no one company dominating.  This is the way I like to see the list.
Manga For Your Ears
Manga Out Loud
Ninja Consultants
Sesho's Anime and Manga Reviews
Spiraken Manga Review
This Week at Manga Village
What I'm Reading
Honey Hunt vol 4
My Darling! Miss Bancho vol 1
Calamity Jack
Cirque du Freak vol 4