Super Sleuth Jimmy Kudo, who was physically transformed into a first-grader, continues to solve crimes as Conan Edogawa while living with family friend Richard Moore and his daughter Rachel. In these four volumes, Jimmy must solve cases such as a missing cell phone, a bomber at the Koshien baseball finals, the murderer of the head of a toy company, and stop the Kaito Kid from stealing the legendary gem The Blue Wonder, all while trying to find the men who changed him, and keep Rachel from finding out Conan and Jimmy are the same person.
Case Closed Volume 43–44, 46–47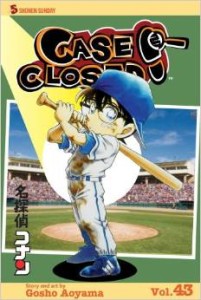 By Gosho Aoyama
Publisher: Viz Media
Age Rating: Older Teen
Genre: Mystery
Price: $9.99
It's been a while since I read a volume of Case Closed. I had the first twelve volumes, but sold them awhile ago, and apparently never reviewed them. Bad me. Since it's been so long since I've read any volumes, I forgot how much I enjoy  reading a good mystery manga. These four volumes have the added bonus of touching on Jimmy's ongoing search to find the "Men in Black" who changed him, Rachel's suspicions about Conan and Jimmy being the same person, and a good old-fashioned treasure hunt.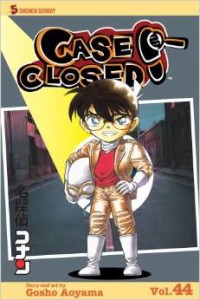 Case Closed, or Detective Conan as it's known in Japan, is very much a formulaic series. Every volume has 2-3 cases, most of which carry over to the next volume. They are all several chapters long, and deal with some sort of mysteries, many of which involve a murder. But, I am perfectly fine with this. It's not the formula that's important, but seeing the characters in action and the mysteries they must solve.
Case Closed has an extensive cast. After going for 20 years, it's hard not to have expanded it, but Aoyama does a good job of balancing who gets featured where. Hattori and Kahuza pop in for a couple of cases, police detective love birds Sato and Takagi as well as Inspector Meguire work on some cases, Serena gets to help out in a case versus Kaito Kid, and of course, the Detective Boys and Rachel and Richard are all one hand to help Conan solve the cases, in one capacity or the other.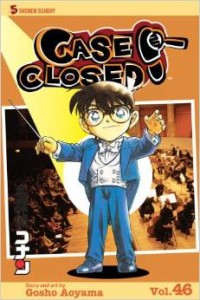 I enjoyed all the cases in these volumes, I really enjoyed the ones where Conan could take the credit for himself. Thwarting Kaito Kid, the Koshien bomber, and solving the toy company president's and magician's murder were all his own, even if he had to share some of that with Hattori. My favorite case was the treasure hunt for Kichiemon's treasure, a diamond. It involved finding clues that related to the past or historical references, my favorite kind of treasure hunts.
Case Closed is all about the mysteries. Conan has personal issues to deal with, that are related in a way, but are also at the heart of the series. He doesn't want to go through growing up again. He needs to find the "Men in Black" who gave him the poison that shrunk him down to a first grader. He's made some headway in previous volumes, but in this one, he finally  figures out a clue; the email of the boss of the gang. I liked that he was cautious with it, debating whether or not to send to it and see what the response would be.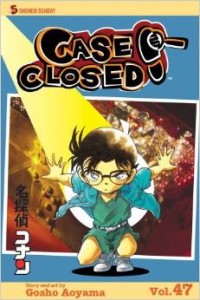 But while the gang may be dangerous, Conan has more to fear closer to home. This whole time, he has been fooling Rachel that he and Jimmy were two different people. But Rachel isn't stupid, and one careless clue too many puts her on Conan trail. The looks of fear he gets when he realizes Rachel may be one to him were just priceless. The relationship between Jimmy and Rachael is a central one to the series, so I really wonder how it will be resolved, assuming the series ever ends, that is. I do want Jimmy to regain his body. The stories when he does are my favorites, but he's got a lot to answer for with Rachel when he finally does.
Case Closed is a great murder mystery series, that any lover of cozy mysteries, or mysteries in general would love. The title is rated Older Teen, but I think tweens could easily handle it. The murders aren't gory, and far from the only types of mysteries Conan and company must solve. For good old fashion mystery lovers like me, this is the only option we have in manga, which is a great shame. But I'm glad we have it.