Rinne once again has his hands full as he has to take care of the young Shinigami Shoma during the boy's homestay, but if Masato the demon has anything thing to do about it, it won't be easy. Tsubasa's failure to exorcise the evil spirit of a beautiful girl brings him more misfortune, and as usual, it's up to Rinne to bale him out.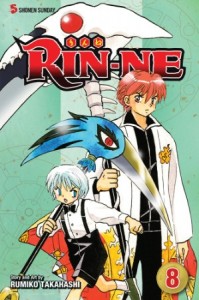 By Rumiko Takahashi
Publisher: Viz Media
Age Rating: Teen
Genre: Supernatural
Price: $9.99
Rating:





I kind of took a short break from Rin-ne, ie, I stopped reading the chapters online. The series has been all hit or miss for me, but since I've enjoyed so much of Takahashi's work, I want to keep giving the series another chance. So when these two latest volumes became available for review, I decided to give the series another go.
Nothing has really changed. Rinne is still helping spirits to the afterlife, pining for Sakura and being dirt poor. He's also still fending off Ageha's advances and battling Tsubasa for Sakura's affections. The demon Masato still tries to make Rinne's life hell with more debt, and his father continues to try to take the souls of his classmates. The stories are still hit and miss. The "being poor" jokes still rub me the wrong way. Rinne taking Shoma to eat bread crumbs thrown by an old man for the birds or hoping that Home Ec doesn't work out so he can have all the burnt food doesn't strike me as funny, just sad. But I did like the story of the "magic square" (the kotatsu) as well as Sakura learning to knit to try to lure out the strangling scarf.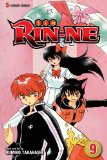 One thing I have come to realize is that the Shinigami are big on gadgets; devices that help them move spirits to the afterlife. Rokumon is always popping up with some strange gadget that usually helps Rinne with problem spirits. The Demon-Tool-Cutting-Shears, the Ghost Trap Box, the Tsukumogami Net and Capturing Bolas, the Childhood Channeling Balloon, the Splitting Incense, and the Single Use Spirit Path all come in handy as Rinne takes on a Tsukumogami, helps a boy give peace to a childhood friend, and tries to stop the misguided Shoma from helping Masato. I've come to like the gadgets. Some of them seem obvious, but others, like the Childhood Channeling Balloon and the Single Use Spirit Path are clever.
When I first started reading Rin-ne, I couldn't help comparing it to Takahashi's earlier series Urusei Yatsura. The more I read, the more the comparison seems to fit. Like UY, Rin-ne is  a gag manga. It's got its cast of characters, its running jokes (Rinne's financial situation, Tsubasa's failure to exorcise anything), and its out-of-the-ordinary situation (the supernatural). When you think it about it, there are too many parallels to be a coincidence. This series is the UY for a new generation, but much more toned down. It has all the wackiness and comedy of its predecesor without the sheer insanity that was UY. Whether that is good or bad is anyone's guess. I don't think I'll every love Rinne, but I guess I do have to admit to liking it enough to read it, just not keep it.