Ichigo, Uryu, and Renji continue their battles with the espadas Nnoitora and Szayelsporro in their attempt to rescue Orihime, but things aren't going so well. It takes some surprising interventions to save the boys from defeat.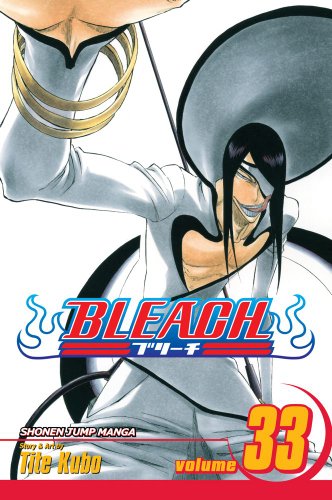 By Tite kubo
Publisher: Viz Media
Age Rating: Teen
Genre: Supernatural/Action
Price: $9.99
Rating:





I haven't enjoyed Bleach since the end of the Soul Society arc, but continued to read the series since it was serialized in Shonen Jump. These two volumes are a bit of an exception, as they stand out by being more entertaining than most of the volumes in the Hueco Mundo arc so far. Two characters that I hadn't cared much about show another side that has me thinking twice about them.
I never really liked Nel, the little hollow girl who's also a big cry baby, and always following Ichigo around. She was annoying and always making things for Ichigo. She finally makes amends in this battle, as she regains her original form, a full-grown, and well endowed, espada called Nelliel. How she came to be the little girl with no memory is revealed as she takes on Nnoitora. The battle is sadly short-lived, but not before Nelliel transforms into her Capricorn Knight form. I liked that form and would have liked to have seen it in action more. Pesche and Dondochakka also prove to be more than just comedy relief as they reveal their combined Cero against Szayelsporro who joined Nnoitora in his treachery against Nelliel.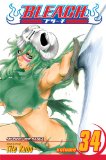 It's not enough of course, for both Ichigo and Renji and Uryu get their buts handed to their by the espadas they are fighting, so it's time for reinforcements. Enter four of the captains from Soul Society; Kenpachi, Unohana, Byakuya, and Mayuri. Unohana, as captain of the 4th company is only there to heal the injured, but Byakuya gets a battle with Zommari which unsurprisingly doesn't last long, and Kenpachi takes over Ichigo's battle with Nnoitora, but the majority of the volume goes to Mayuri taking on Szayelsporro, the espada scientist vs the Soul Society scientist. Their battle becomes a game of one-upmanship, as each tries to prove he is not just more powerful than the other, but also more clever. But it's obvious who the winner will be. Mayuri is consistantly one step ahead of Szayelsporro, and uses his adjutant Nemu as the bait to lure him into his web. I've never really liked Mayuri and his superiority complex, but I liked Szayelsporro even less, so I'm okay with Mayuri winning. He had some good taunts, and even got a laugh at his wall-eyed, tongue out taunt.
I was bothered by a few things. I liked Nelliel's character design as a whole, and do understand why so little of herself would be covered when going from little Nel to full-size Nelliel, but what is she doing on the cover of the volume? Is that pose even physically possible? I've looked at it a lot as I've been writing this review, and it just baffles me more every time. While I can at least deal with it, I really didn't like was a scene with Orihime. When Nnoitora sends Tesla to finish off Ichigo, she starts to yell out to Ichigo, but Nnoitora silences her by sticking his fingers in her mouth. Really? Was that really necessary? Covering her mouth wasn't enough? And she just meekly accepts this. Fan service I've learned to live with, but this was crossing the line for me.
Bleach lost me as a devoted fan a while a go, but I keep holding out hope that it will get better and I will enjoy it again. These two volumes show that all hope isn't lost, but it still has a long way to go to win me back. A little less fighting, a little more humor would definitely help.
Review copy provided by publisher.