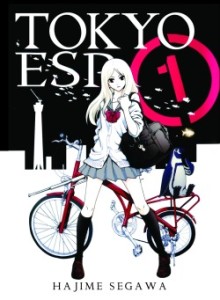 Vertical Comics, the comics imprint of Vertical, Inc., announced through their Tumblr that they had acquired a new manga license, Tokyo ESP.  Vertical had the title confirmed since just after New York Comic Con, but retailers were starting to put solicitations out for the first volume, so there was little reason to sit on it any longer.
The story follows Rinka Urushiba, a high school student who works a part-time job to help her father make ends meet. One day she sees a penguin chasing some glowing fish flying through the sky. She is touched by one of the fish and loses conscious. When she wakes up, she has a supernatural power; she can walk through inanimate objects. She is not the only one to gain powers, and she joins up with another high school student, Kyotaro Azuma who can teleport. They take on other powered people who have decided to use their powers for evil. The series is published by Kadokawa Shoten in their magazine Shonen Ace and is currently 11 volumes.
There is an anime adaptation that ran last summer that Crunchyroll streamed and Funimation licensed. This title was also one of the debut titles in Kadokawa Shoten's Comic Walker app with an English translation. I read the first chapter and thought it had potential, so I'm thrilled Vertical has licensed it. They will be releasing the title as two-volume omnibuses and first volume will be available in the Fall.