DeKalb, IL – The seventh issue of Uncanny Magazine will be available on November 3 at uncannymagazine.com.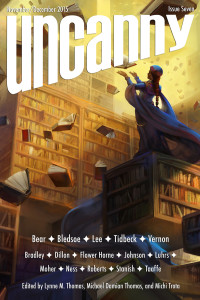 Hugo Award-winning Publishers/Editors-in-Chief Lynne M. Thomas (Chicks Dig Time Lords, Apex Magazine) and Michael Damian Thomas (Queers Dig Time Lords, Glitter & Mayhem) are proud to present the seventh issue of their online science fiction and fantasy magazine, featuring passionate SF/F fiction and poetry, gorgeous prose, provocative nonfiction, and a deep investment in the diverse SF/F culture, along with a monthly podcast featuring a story, poem, and interview from that issue.
All of Uncanny Magazine's content will be available in eBook versions on the day of release from Weightless Books, Amazon, Barnes & Noble, Google Play, and Kobo. Subscriptions are always available through Weightless Books. The free online content will be released in 2 stages- half on day of release and half on December 1.
Starting this month, eBook subscriptions are also now available through Amazon.
For more information, please check out uncannymagazine.com or follow Uncanny at https://twitter.com/UncannyMagazine
or https://www.facebook.com/uncannymagazine.
Uncanny Magazine Issue 7 Table of Contents
Cover
"The Archivist" by Julie Dillon
Editorial
"The Uncanny Valley" by Lynne M. Thomas & Michael Damian Thomas (11/3)
Fiction
"Wooden Feathers" by Ursula Vernon (11/3)
"And the Balance in Blood" by Elizabeth Bear (A Novelette) (11/3)
"A Call to Arms for Deceased Authors' Rights" by Karin Tidbeck (12/1)
"Interlingua" by Yoon Ha Lee (12/1)
"I Seen the Devil" by Alex Bledsoe (12/1)
Reprint
"Love Will Tear Us Apart" by Alaya Dawn Johnson (11/3)
Nonfiction
"The Call of the Sad Whelkfins: The Continued Relevance of How To Suppress Women's Writing" by Annalee Flower Horne and Natalie Luhrs (11/3)
"Please, Judge This Book by Its Cover" by Aidan Moher (11/3)
"The Alien Says Don't Take Your Meds: Neurodiversity and Mental Health Treatment in TV SF/F" by Tansy Rayner Roberts (12/1)
"Everyone Has a Ghost Story" by Deborah Stanish (12/1)
Poetry
"The Thirteenth Child" by Mari Ness (11/3)
"Something Different from Either" by Sonya Taaffe(11/3)
"Aboard the Transport Tesoro" by Lisa M. Bradley (12/1)
Interviews
Yoon Ha Lee interviewed by Deborah Stanish (12/1)
Alex Bledsoe interviewed by Deborah Stanish (12/1)
Podcast 7A (11/3)
"Wooden Feathers" by Ursula Vernon, as read by Amal El-Mohtar
"The Thirteenth Child" by Mari Ness, as read by Erika Ensign
Ursula Vernon Interviewed by Deborah Stanish
Podcast 7B (12/1)
"A Call to Arms for Deceased Authors' Rights" by Karin Tidbeck, as read by Erika Ensign
"Aboard the Transport Tesoro" by Lisa M. Bradley, as read by Amal El-Mohtar
Karin Tidbeck Interviewed by Deborah Stanish