In the fourth volume of Flowers of Evil, Takao makes his decision… He will try to win the affection of one his muses. This will be no simple task, as the teens in this manga drama are all now damaged and warped. Growing up without a mother has twisted their hearts. Helping people like that open up may be impossible, but Takao has thrown away his own humanity as well.
Furthermore, Takao is now in search now a utopia. One that can only be shared with his best and only friend, that will sit, even if briefly, among the rice paddies and in the mountains of his rural hometown. And most importantly, it will be a place that pokes fun and undermines every little thin ideal that holds this town together. There is no way this new society will be accepted, but that is exactly what these two wanted in the first place.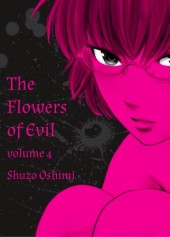 By Shuzo Oshimi
Publisher: Vertical
Age Rating: 13+
Genre: Psychological
Price: $10.95
Shuzo Oshimi's latest volume of Flowers of Evil takes place a few weeks after where the third volume left off. Takao is left to view his two muses back in their school setting but from a distance. His resolve to win back the friendship of one over the over was somewhat unexpected but not entirely shocking. Though Takao's self realizations seem somewhat egotistical, whereas his resolve to not leave the one muse ever alone again it brings the assumption that she needs him to continue on the search for the "other side."
The first three volumes of this series had me thirsting for more but not so much with this volume, though I am still anticipating the release of the fifth volume this upcoming April. Despite my high expectations for this volume I'm curious nonetheless how this series will now progress. Takao may have chosen one muse over the other but manga has taught me that doesn't mean the male protagonist has truly given up on both. Though it is the other muse's development that I'm hoping to have fleshed out more.
As an added bonus the end of the volume includes a locations tour showing pictures of actual locations that the artist used for scenes in the series. Though as a reader it did gives off a slightly creepy sensation.