In an instant, a host of the recently deceased discover that they've been given another shot at happiness…as adorable cats! Will they make the most of their seven-day opportunity? Or will the fur fly as they struggle to figure out what life's all about? Start with a Happy Ending follows finicky felines and curious kittens as they take a crash course in the ups and downs of existence! Can reincarnation give a legion of lost souls the wake-up call they truly need?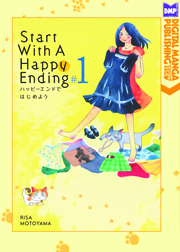 By Risa Motoyama
Publisher: Digital Manga Publishing
Age Rating: 10+
Genre: Drama, Shojo, Slice of Life
ISBN: 9781569702871
Price: $12.95
Start with a Happy Ending might seem kind of odd by combining death with cute kitties, unless you believe your cat is trying to kill you. But it's not really about death, but what happens after, when people are given a second chance to re-examine their lives, and help their loved ones or themselves find peace and happiness.
Start with a Happy Ending is a series of short vignettes that tell the story of someone how has just died. Sometimes it is while saving a cat, or it might be because of overwork, or old age. Whatever the reason, they will wake up in a cat's body with the Cat God telling them they have 7 days to make sure they have no regrets in this life before moving on to the next. Most of the time, after getting over the shock of being dead, the people will waste their 7 days, only figuring out what went wrong in their life just hours before their time is up. Sometimes it's habit, like the man who died of obesity spending most of his days sleeping, or the girl who didn't value anything in life just wanting to get it over with in death. Sometimes the person has to see how those they left behind are dealing this their loss, such as the man who gave up on music seeing his music collection shared with family and friends again, or the wife who thought her husband was cheating to find out he wasn't and just wanted to know if she loved him. But whether they have the seven days or seven minutes, once they have the epiphany, they always succeed in making the change.
Since this title is a series of short stories, there aren't any recurring characters other than Cat God. He is a tall, imposing figure, with a long white beard and a pocket watch that tracks the person's allotted time. Sometimes he's rather abrupt, simply stating the person is dead and has the seven days, and sometimes he tries to give them a nudge to get them into the right state of mind. He can be fairly humorous, such as sitting playing video games while a programmer has to figure out his last promise to himself. Everyone who gets a second chance did something kind for a cat or owned a cat one time or another, which is why the Cat God is giving them the second chance. A lot of people die saving cats from cars, trains, or falling signs.
Reincarnation plays a big role in this title, as often after the person truly dies, they get the chance to choose how they want to come back; as either a cat or a person. The choices are often interesting. The wife who though her husband was cheating comes back as his granddaughter so she can say "I love you." There is also a teenage girl who comes back to become a vet with her childhood friend. Sometimes though, they choose to be cats. The first story features a girl who keeps the life of the kitten she saved so she can be adopted by the boy she couldn't admit to liking. The cats get into the act too, such as the man who never left his shop only to discover in his previous life he was a cat who wanted to come back as his owner's son. The cats are helpful too, such as the cat who gave up her body so her elderly owner could rest knowing her husband could manage without her.
The art in this book is a little sketchy. It's not what you would expect from a manga, with very simple character designs and backgrounds. It doesn't take away from the much, though sometimes it did stand out more than it should have. But the plain art works. The stories might not have made as much of an impact with more detailed art. I was in tears at some of the stories as it was.
Start With a Happy Ending is a wonderfully heartwarming title. Every story ends with a happy ending, which is perfectly okay. Being a cat manga already gives it a plus in my book, but this title really goes the extra mile by being funny, touching and inspiring. I found the content of the title to be appropriate to tween and up and would highly recommend it to any one looking to put a smile on their face.