It's been quite the renaissance for Doctor Who comics since Titan Comics took over the franchise. All of the "Nu" Doctors have gotten a series, and now the first of the "technically" Classic Doctors now has his own. The 8th Doctor was sadly short-lived on TV, but found life in the Big Finish audios that gave him companions and arcs. And now, he gets a 5 issue comic series, with a new companion. Maybe if it does well, it can go longer, or we will see another series! Full press release below: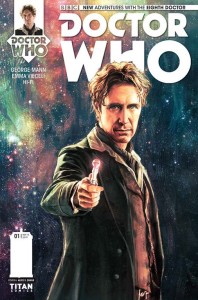 DOCTOR WHO: THE EIGHTH DOCTOR #1
WRITER: GEORGE MANN
ARTIST: EMMA VIECELI
COVER: ALICE X ZHANG
PUBLISHERS: TITAN COMICS
PAGE COUNT: 32PP
FORMAT: SOFTCOVER
PRICE: $3.99
RELEASE DATE: NOVEMBER 4
"I'M THE DOCTOR, AND I'D VERY MUCH LIKE TO KNOW WHAT YOU'RE DOING IN MY HOUSE…"
Get ready for an all-new season of comics adventures featuring the Eighth Doctor, as played by Paul McGann in the Doctor Who movie, fan-favorite minisode Night of the Doctor… and over fourteen years (and counting!) of astounding Big Finish audio spectaculars!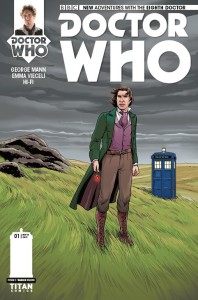 Five amazing, interconnected new stories take the Doctor on a rollercoaster of threat and misadventure, as he investigates the mysteries surrounding his new companion Josie. Victorian magic shows, murderous trees, lost books, crystalline life-forms, barges in space crammed with the undead… and the grand journey all begins in a sleepy Welsh town… besieged by living paintings!
 Buckle up for a wild ride that embraces all the Gothic Romance and interstellar terror of the Doctor's eighth incarnation!