Titan Comics has been working hard to expand their Doctor Who comics to include the regenerations that fans love/are most interested in. The mini-series' for Nine and Eight made perfect sense with Nine having started "NuWho" and Eight being connected back in through the 50th Anniversary special.  The jump back to Four also makes good sense, since Tom Baker's incarnation of the Doctor is still the most popular of the Classic Doctors. And there really is no better companion for Four than Sarah Jane Smith. As far as I'm concerned, most of the Fourth Doctors stories were the episodes with him and Sarah Jane. If you're a fan of Doctor Who regardless of Classic or Nu, this is a series you'll want to pick up.
TITAN COMICS AND BBC WORLDWIDE ANNOUNCE NEW MINISERIES STARRING THE FOURTH DOCTOR, AS PLAYED BY TOM BAKER!
 The Fourth Doctor And Sarah Jane Smith Return For An All-New Adventure!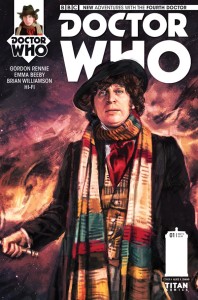 (November 10, 2015, London/New York) Titan Comics and BBC Worldwide are pleased to announce a brand-new mini series starring the Fourth Doctor and Sarah Jane Smith, as played by Tom Baker and the late Elisabeth Sladen.
This series expands Titan Comics' hugely popular and critically acclaimed Doctor Who comics line, which already includes adventures from the Eighth, Ninth, Tenth, Eleventh and Twelfth Doctors.
Entitled 'Gaze Of The Medusa', the five-part series will hit stores in March 2016 and will be penned by Gordon Rennie (Missionary Man, Judge Dredd) and Emma Beeby (Witch Hunter, Judge Dredd) with art by Brian Williamson (The Twelfth Doctor, Spider-Man, X-Men).
The all-new adventure is set in Victorian England, where a mysterious woman commands a hidden army in a house of the blind. Scryclops stalk the streets…and something alien and terrible screams from prehistory – with a hunger that cannot be satisfied!
Issue #1 will come with six covers to collect: a painted cover by fan-favorite artist Alice X. Zhang; a photo variant; art covers by artists Brian Williamson, Jay Gunn and Matt Baxter; and a blank sketch variant.
Doctor Who: The Fourth Doctor #1 debuts in comic stores and on digital devices from March 2016.
About Titan Comics
Titan Comics offers astounding creator-owned comics and graphic novels from new and world-renowned talent, alongside the world's greatest licensed properties and classic graphic novels remastered from brand-new audiences.  Titan is one of the most successful independent publishing operations in the US, with a recent six-week run at #1 in the New York Times bestseller list. For more information, visit: www.titan-comics.com
Connect with Titan Comics:
https://twitter.com/ComicsTitan
https://facebook.com/ComicsTitan
http://titancomics.tumblr.com/
https://www.youtube.com/user/ComicsTitan
About BBC Worldwide North America
BBC Worldwide North America is the main commercial arm and wholly-owned subsidiary of the British Broadcasting Corporation (BBC) operating in the U.S. and Canada.  The company exists to maximize the value of the BBC's assets for the benefit of the UK license payer and invests in public service programming in return for rights. The company operates four businesses in the territory – linear and digital content sales and co-productions, consumer products, BBC.com, and BBC Worldwide Productions, the production arm responsible for the smash hit Dancing with the Stars. The company also owns a 50.1% share in cable channel BBC AMERICA through a joint venture with AMC Networks.