It's announcements like this that makes wish I was going to SDCC. Almost. The panel with Paul Cornell would be a lot of fun. I've heard him on some Doctor Who podcasts and he is funny. I think he would be great to see live!
TITAN'S DOCTOR WHO COMICS LAND AT SAN DIEGO COMIC-CON WITH A BANG!
 SPECIAL ISSUES, PANELS AND SIGNINGS PLANNED FOR THE BIGGEST GLOBAL COMIC-CON THIS JULY!
July 7, 2016 – BBC Worldwide North America and Titan Comics are excited to announce that Doctor Who comics are arriving in force at the summer global event San Diego Comic-Con (July 21-24) – bringing the most sought after specials in the universe!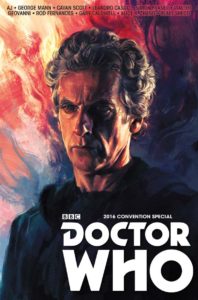 Titan are releasing a Doctor Who convention special comic, which features an all-new never before released Doctor Who story, "The Long Con", starring the Tenth, Eleventh and Twelfth Doctors! With art by Leandro Casco (Doctor Who: The Eleventh Doctor), Simon Fraser (The Eleventh Doctor), and Walter Geovanni (Red Sonja), this convention special comic comes with two fantastic covers to collect by Alice X. Zhang (Doctor Who, The Blacklist) and Simon Fraser.
This special also features all nine 'Supremacy of the Cybermen' back-up strips by George Mann (The Eighth Doctor, Supremacy of the Cybermen), Cavan Scott (The Ninth Doctor, Supremacy of the Cybermen) and a cavalcade of amazing creators, including Blair Shedd (The Ninth Doctor), Lee Sullivan (Rivers of London), Mike Collins (Uncanny X-Men), Dan Boultwood (The Eleventh Doctor, It Came), Andrew Pepoy (The Fourth Doctor), Simon Myers (Dark Souls), and many more – perfect for the dedicated signature hunter!
Doctor Who fans attending this year's San Diego Comic-Con can purchase this special comic at the Titan booth #5537, alongside Titan's fantastic range of Doctor Who comics and collections.
But that's not all! Titan also has an unmissable panel that fans will not want to miss – packed with exclusive reveals, never-before-seen artwork previews, and fantastic Doctor Who guests: writers Paul Cornell (Four Doctors, The Third Doctor), George Mann, Cavan Scott, Rob Williams (The Eleventh Doctor), and Doctor Who editor Andrew James will reveal upcoming plans for Titan's Doctor Who comics and take you behind the scenes of Titan's convention special Doctor Who comic – created especially for the show! This highly anticipated panel will take place on Saturday at 3:30PM in room 5AB.
Titan's top talent will be signing Doctor Who comics over the weekend at Titan's booth #5537 with the opportunity for fans to meet their favorite Doctor Who creators including; Rob Williams, Cavan Scott, Si Spurrier (The Eleventh Doctor), Simon Fraser, Paul Cornell, Alice X. Zhang, and George Mann.
To keep up to date with Titan Comics at San Diego Comic-Con, follow Titan Comics on Facebook, Twitter and Tumblr.
About Titan Comics Titan Comics offers astounding comics and graphic novels from the world's greatest licensed properties, alongside creator-owned comic books from new and world-renowned talent and classic graphic novels re-mastered for brand-new audiences. For more information, visit: https://www.titan-comics.com
Connect with Titan Comics: https://twitter.com/ComicsTitan
https://facebook.com/ComicsTitan
http://titancomics.tumblr.com/
https://www.youtube.com/user/ComicsTitan
About BBC Worldwide North America
BBC Worldwide North America is the main commercial arm and wholly-owned subsidiary of the British Broadcasting Corporation (BBC) operating in the U.S. and Canada. The company exists to maximize the value of the BBC's assets for the benefit of the UK license payer and invests in public service programing in return for rights. The company operates four businesses in the territory – linear and digital content sales and co-productions, consumer products, BBC.com, and two production divisions – BBC Worldwide Productions, responsible for the smash hit Dancing with the Stars and the U.S. version of Top Gear; and Adjacent Productions, producers of Da Vinci's Demons, Life Below Zero, and Ladies of London, among others. The company also owns a 50.1% share in cable channel BBC AMERICA through a joint venture with AMC Networks.