I wish I had more time to keep up and read all the fantastic fiction that happens online. I already subscribe to Sparkler Monthly, and can't even keep up with that, so while I think Uncanny is great, I just couldn't take on another magazine that would just pile up, even if digitally. But that doesn't mean YOU can't! Support this magazine with lots of fabulous writers and features and keep them going for another year!
DeKalb, IL – Three-time Hugo Award-winner Lynne M. Thomas and four-time Hugo Award nominee Michael Damian Thomas are launching a Kickstarter for Year Three of their 2016 Hugo and World Fantasy Award-nominated professional online SF/F magazine: Uncanny Magazine. Each issue contains new and classic speculative fiction, fiction podcasts, poetry, essays, art, and interviews. Uncanny Magazine is raising funds via Kickstarter to cover some of its operation and production costs for the third year, with an initial goal of $18,700. The Kickstarter will launch July 18, 2016, and run through August 16, 2016.
https://www.kickstarter.com/projects/lynnemthomas/uncanny-magazine-year-three-the-space-unicorn-flie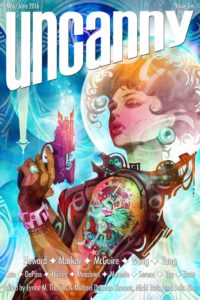 "Uncanny features passionate SF/F fiction and poetry, gorgeous prose, and provocative nonfiction, with a deep investment in our diverse SF/F culture. We publish intricate, experimental stories and poems with verve and vision, from writers from every conceivable background. With the hard work of the best staff and contributors in the world, Uncanny Magazine delivered everything as promised with our Year One and Two Kickstarters. So far, pieces from Uncanny Magazine Year One are finalists for 14 different awards and have been included in 6 separate Year's Best anthologies. This year, the magazine has been recognized as a World Fantasy Award Finalist  and Hugo Award Finalist. Hao Jingfang's Uncanny Magazine story "Folding Beijing" (translated by Ken Liu) became a finalist for the Hugo, Sturgeon, and Locus Awards. Amal El-Mohtar's "Pockets" and Sam J. Miller's "The Heat of Us: Notes Toward an Oral History" are both World Fantasy Award finalists. We couldn't have done all of this without the amazing support of our Kickstarter community, who we call the Space Unicorn Ranger Corps after our logo mascot. This is also their magazine, which is why we're running the Uncanny Magazine Year Three Kickstarter," Lynne says.
For Year Three, Uncanny has solicited original short fiction from Hugo, Nebula, Locus, and World Fantasy Award-winning and nominated authors including: Seanan McGuire (October Daye series), Ursula Vernon (Digger), Alyssa Wong ("Hungry Daughters of Starving Mothers"), Maria Dahvana Headley (Magonia), Mary Robinette Kowal (Glamourist Histories series), Catherynne M. Valente (Radiance), John Chu ("The Water That Falls on You from Nowhere"), Paul Cornell (Who Killed Sherlock Holmes ?), N. K. Jemisin (The Fifth Season), Sam J. Miller ("The Heat of Us: Notes Toward an Oral History"), Isabel Yap ("The Oiran's Song"), Delia Sherman (The Freedom Maze), Sarah Pinsker ("Our Lady of the Open Road"), and Nalo Hopkinson (The New Moon's Arms). There will also be numerous slots for unsolicited submissions.
Uncanny Magazine Year Three plans to showcase original essays by Sophie Aldred, Javier Grillo-Marxuach, Sarah Kuhn, Mark Oshiro, David J. Schwartz, and Cecilia Tan, plus poetry by Lisa M. Bradley, Roshani Chokshi, Theodora Goss, Nin Harris, Shveta Thakrar, and Jo Walton.
Uncanny Magazine Year Three will also feature cover art by Julie Dillon and Galen Dara, and interior art for Alyssa Wong's story by Grace P. Fong.
Uncanny Magazine issues are published as eBooks (MOBI, PDF, EPUB) bimonthly on the first Tuesday of that month through all of the major online eBook stores. Each issue contains 3-5 new short stories, 1 reprinted story, 3 poems, 2 nonfiction essays, and 1 interview, at minimum.
Material from half an issue is posted for free on Uncanny's website (built by Clockpunk Studios) once per month, appearing on the second Tuesday of every month (uncannymagazine.com). Uncanny also produces a monthly podcast with a story, poem, and original interview. Subscribers and backers will receive the entire double issue a month before online readers.
For more information, interview requests, or guest blog invitations, please contact Lynne and Michael Thomas at uncanny@uncannymagazine.com.
Lynne and Michael Thomas guide the magazine as Publishers and Editors-in-Chief. Lynne is the former Editor-in-Chief of Apex Magazine (2011-2013) which was nominated for three Hugo Awards during her tenure. She co-edited the Hugo Award-winning Chicks Dig Time Lords with Tara O'Shea, as well as Whedonistas with Deborah Stanish and the Hugo Award-nominated Chicks Dig Comics with Sigrid Ellis. She co-moderated the two-time Hugo Award-winning SF Squeecast and contributes to the Hugo Award-nominated Doctor Who: Verity! podcast.
Michael is a two-time Hugo Award nominee as the former Managing Editor of Apex Magazine (2012-2013). He also co-edited the Hugo-nominated Queers Dig Time Lords with Sigrid Ellis and Glitter & Mayhem with John Klima and Lynne M. Thomas. He also has worked as an Associate Editor on numerous books at Mad Norwegian Press, including Chicks Dig Time Lords and Chicks Dig Comics. He is the moderator for Down & Safe: A Blake's 7 Podcast.
Michi Trota is Uncanny's Managing Editor. She is a writer, editor, speaker, communications manager, and community organizer in Chicago, IL. Michi writes about geek culture and fandom, focusing primarily on issues of diversity and representation, on her blog, Geek Melange. She was a featured essayist in Invisible: An Anthology of Representation in SF/F (edited by Jim C. Hines) and is a professional editor with fifteen years of experience in publishing and communications.Julia Rios is the Uncanny Magazine Reprint/Poetry Editor. She was a fiction editor for the Hugo Award-nominated Strange Horizons from 2012 to 2015, and is co-editor with Alisa Krasnostein of Kaleidoscope: Diverse YA Science Fiction and Fantasy Stories, and the Year's Best YA Speculative Fiction series. She is also a co-host of the Hugo-nominated podcast, The Skiffy and Fanty Show, and her fiction, nonfiction, and poetry have appeared in several places, including Daily Science Fiction, Apex Magazine, and Goblin Fruit.
Deborah Stanish conducts Uncanny's author interviews. She co-edited the Hugo-nominated Chicks Unravel Time: Women Journey Through Every Season of Doctor Who with L.M. Myles and Whedonistas with Lynne M. Thomas, and is a founding member and the moderator of the Doctor Who: Verity! podcast.
Uncanny's podcast is edited and produced by Erika Ensign and Steven Schapansky. Erika is a founding member and producer of the Doctor Who: Verity! podcast. She also co-hosts The Audio Guide to Babylon 5 and is a frequent panelist on The Incomparable. Steven is one of the three hosts of the popular Doctor Who podcast Radio Free Skaro, as well as a co-host of another Doctor Who podcast called The Memory Cheats. They co-host together the Lazy Doctor Who podcast.
Amal El-Mohtar is the Uncanny Magazine podcast narrator.  Amal is the Nebula-nominated author of The Honey Month, a collection of poetry and prose written to the taste of twenty-eight different kinds of honey. Her poems have won the Rhysling award thrice and the Richard Jefferies Prize once. Her story "The Truth about Owls" from Kaleidoscope is the winner of the 2015 Locus Award for Best Short Story.
A Magazine of Science Fiction and Fantasy
Lynne M. Thomas and Michael Damian Thomas, Editors-in-Chief and Publishers
Michi Trota, Managing Editor
@uncannymagazine