Yokai are mysterious, troublemaking spirits and demons that have tormented Japan for centuries. Kotoko's grandfather exorcised them for a living, but Kotoko never thought that her family lineage was an asset. Then she meets Kuro, a yokai doctor. Yokai have doctors? Now Kotoko is learning firsthand that healing the yokai is a lot more challenging than getting rid of them!
Originally reviewed by Dan Polley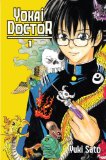 By Yuki Sato
Publisher: Del Rey Manga
Genre: Action, Science Fiction
Rating: Older Teen (16+)
Price: $10.99
Kotoko has a famous lineage: Her grandfather exorcised yokai — mysterious, trouble-making spirits and demons.
She's a 16-year-old student who had to perform to exorcise some of those demons when word about her background got out around school. So she pretended to do so, and got an ovation from her classmates.
Kotoko manages to see some of Kuro Gokokuji's actions, and he seems to be a bit erratic to her. For everyone else, Kuro is a loner, but to Kotoko, he has some connection to the yokai; she sees that he is affected by them.
Finally, she corners him on the rooftop of the school and let's him understand that she knows that he can see the yokai. She tells him not to fear them, and he says he prefers to keep his distance from everyone else. Then some of their classmates rush in, and Kotoko says she will try to stand up to other people who might bother him.
Later, she embarks with some of their classmates to a forest to ward off the evil yokai. However, things don't go as planned, and dramatic actions are taken to save everyone in the group. That's when Kuro explains he is a yokai doctor.
After that encounter, Kotoko displays resolve in situations involving yokai. But her actions are done without full understanding, and she must deal with the consequences of them.
The second half of the volume tells much of the story that was just told. However, it's told through Kuro's eyes. This really helps to give a greater understanding to the two most important characters, Kuro and Kotoko.
The last tale in the volume involves Kotoko becoming more familiarized with the yokai. However, she still has a lot to learn as this story shows.
The choice to tell the same story from both character's perspective really helped this volume. Likewise, it offered up an opportunity to learn some of the backstory and motivations for both characters, which also helped enrich the book.