Kenji wrote "The Book of Prophecy" in his boyhood. Now this childish fantasy has become the scenario for the Friend's fiendish plot to destroy mankind. Kenji goes underground and waits for a chance to fight back.Meanwhile, the evil organization is closing in on a man called Shogun in the ganglands of Bangkok. The mystery grows deeper, the fear more intense, as we near the final battle at the turn of the century… Is there really any way to save the world from annihilation?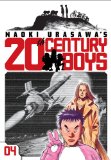 Originally reviewed by Matthew Rozier
By Naoki Urasawa
Publisher: Viz Media-Viz Signature
Age Rating: Older Teen
Genre: Mystery/Drama
ISBN: 9781421519234
Price: $12.99
Volume 4 of Naoki Urasawa's suspense thriller 20th Century Boys continues to chug right along, delving further into the exploits the Bangkok-residing, grizzled Japanese man known only as "Shogun." Who is he really? What is his role in all of this? The answers are contained within.
It is now summer of the year 2000. Wait, what? It is 2000 already? The world is supposed to end in December 2000, right? [The time skip from 1997 to 2000 happened in the latter stages of volume 3.] Four volumes into the series and there are supposedly only a few months left? This series supposed to be 22 volumes, is it not (plus the two-volume sequel)? How did Urasawa manage to stretch this series to such lengths? Only time will tell, but hopefully things do not end up becoming dragged out like Urasawa's Monster was.
Pacing gripes aside, Urasawa delivers yet another scintillating volume here. He has been heralded as Japan's "Master of Suspense," and they are not kidding. He knows full well how to keep a reader on the edge of their seat with revelation after revelation, all while layering even more onto this already complex plot to keep everyone guessing. For example: the true identity of Shogun may come as a surprise to many, not to mention who he meets in the jungles of Thailand. The focus then shifts to Kenji before he has another hair-raising encounter with Friend.
By this point, Urasawa's gritty, pseudo-realistic art is not in much need of analysis; save for his usual way of playing up events. His characters seem to overreact a lot, and Urasawa feels that he needs to spice things up even more by utilizing close-ups when he does not need to. Considering the great expressions he draws, close-ups become redundant almost every single time he decides to tack one on, making things feel melodramatic. Otherwise, his artwork is as great as ever.
Anyone who might have been skeptical after the first volume should continue reading. 20th Century Boys is still one of the better ongoing manga titles on the market right now.