Weight loss is the American ideal. It stands as one of the few things that all Americans look up to, and has the same "American-ness" to it like apple pie and baseball. People are always trying to lose weight in America, because many people in America are obese or health-crazed. Weight loss tends to be an almost magical thing, and people will try all sorts of absurd things to remove pounds. They eat nothing but protein, drink soymilk and vegetable juice three times a day, and exercise insane amounts just to fit into that smaller dress size or waist measurement.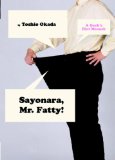 By Toshio Okada
Publisher: Veritcal Inc.
Genre: Memoir/Health
ISBN: 9781934287422
Price: $14.95
So, here it is – I received Sayonara, Mr. Fatty! at a pretty critical time. My doctor had just informed me that I needed to lose weight to keep my blood pressure down and to make sure that my organs continued to function well. He had warned me about the long-term consequences of being overweight, including heart disease and diabetes. I was at 215 lbs, and I knew that I could lose weight, but I didn't know how. I'm not super athletic, and I don't care for stupid diets like the carrot and pickles diet, or whatever the latest craze was. I wasn't going to drink Slim-Fast or go on one of those modified food diets either. I wanted something that fit into my daily schedule, and worked for me.
Sayonara, Mr. Fatty! isn't what I would call a health book – it's more of a memoir of a man who used one of the easiest ways to lose weight to drop 110 lbs in a year. How did he do it? Simply by recording everything he ate, and then slowly reducing his caloric intake. Sayonara, Mr. Fatty! is his resulting book about how to achieve his success, and the plan he devised using his methods. It's called the Recording Diet.
First, let me say that the Recording Diet works, as long as you stick to it – and it's not that hard to stick with. You literally record everything you eat for a period of time, and then slowly start to reduce the amount of calories that you can eat in a day, still recording everything. Some people will not succeed with this diet, because they won't put the effort into writing down their foods. I myself had problems initially writing down what I ate. But as you watch what you eat, you can make better choices about food, when you have weak spots, and you can correct those problems. If you can stick by the simple rule of calorie reduction and food recording, you will start to see the pounds come off.
Now, as a future health-care professional, I can't recommend all of Okada's techniques. He suggests that massage can help you lose weight, and he even suggests doing one of those limited intake diets (the Carrot and Pickle diet, or whatever is popular these days) during the phase of your diet where you've reached a plateau of weight loss. This is not healthy, nor medically sound. But the basic premise of his writing is that if you reduce the amount of calories you eat, you will lose weight. That's pretty sound logic. So I took up his diet, to see what I could do with my weight.
Vertical, while being known in the comics industry as the company that has published much of Tezuka's work (Black Jack, Dororo), is more of a publishing house that focuses on Japanese literature. It's no surprise that they're the company that would bring Sayonara, Mr. Fatty! to the USA.  Their production values for the book are remarkable, and everything is translated in a way that is easy to understand. The cover and binding are all very well done, and as a book, it looks good. What's more, the book is an entertaining read. Okada is very quick to point out his own failures and then gives you tips to combat those types of failures. He shares amusing stories about his trip to losing 110 lbs. He is encouraging, but not the faux-encouragement you see in most diet books. It is with a simply stated humble kindness that Okada expresses his beliefs and explains his diet. For the memoir alone, this book is worth its price tag.
So, after doing the Recording Diet for three months, even if slipping a bit here and there, how are things looking for me? I've lost 33 lbs in three months – I'm down to 182, and I'm continuing to lose weight. For anyone out there looking to lose weight – this is a fine tool in your arsenal. For everyone else, Sayonara, Mr. Fatty! is an excellent diet memoir, and an entertaining read.