Sawako Kuronuma is the perfect heroine…for a horror movie.  With striking similarities to a haunting movie character–jet-black hair, sinister smile and silent demeanor–she's mistakenly called Sadako by those around her.  But behind her scary facade is a very misunderstood teenager.  Too shy to fit in, all she wants to do is make some friends.  But when the most popular boy in class befriends her, she's sure to make more than just that–she's about to make some enemies too!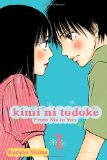 By Karuho Shiina
Publisher: Viz Media
Genre: Romance
Age Rating: Teen
Price: $8.99
I liked the first chapter preview of this title in Shojo Beat, and was glad that it lasted for the whole volume.  Sawako is a victim of misunderstandings, which, thanks to Kazehaya, an outgoing and popular boy in her high school class, she starts trying to rectify.  Her tentative reaching out to fellow classmates meets with some success, not everyone likes the attention she keeps getting from Kazehaya.
The plot of this title seems cliché.  The misunderstood shy girl who makes friends with the popular boy, and suddenly she's popular too.  But that's not the draw of this title.  It's all about the characters.  Sawako doesn't try to be scary, but being quiet and shy, smiles don't come fast and easy to her, making her appear something she isn't.  Her pure innocence makes her endearing though.  She's not clueless or absent-minded, she just isn't sure about how to approach people. This all changes with the arrival of Kazehaya.
Kazehaya is the popular boy who cheerful and friendly.  He's friends with everyone, and all the girls have their eyes on him to be more than just friends.  But Kazehaya seems to have his eyes on Sawako.  At first, he's the only person who will greet her and doesn't pull away in fear.  He actually calls her by her given name, and will look in her eyes, though his reason for looking away is different from other people.  To the reader, it's clear he has feelings for Sawako, but as she is just discovering friendship, it never occurs to her that Kazehaya's attentions might be for more than that.
Sawako's first high school friends are Yano and Yoshida.  They look like the clique, bullying types, but turn out to the opposite.  After Sawako explains she can't really attract ghosts, and that she really just wants to make friends, they warm up to her.  Yoshida is especially impressed by Sawako's innocence.  Yoshida is cute in her own way.  With these three people around her, Sawako starts to make more friends in class, or at least seems less scary to classmates.  When she genuinely smiles, it impresses (and shocks) everyone around her.
All of these characters and they way they interact really made this a great volume to read.  It feels good every time you see Sawako make a friend, and sad when she thinks Kazehaya might not want to talk to her anymore, and she fears being alone again.  Sawako, Kazehaya, Yano and Yoshida made a great circle of friends that just grows by the end of volume one, but this is a shojo title, so all can't be well in paradise.
Unbeknownst to her, Sawako has made enemies.  Girls that lurk in the shadows, and that don't approve of the attention she's been getting from Kazehaya.  They appear here and there throughout the volume, and don't make a move until the end, targeting not Sawako, but Yano and Yoshida.  The volume ends on a cliffhanger.  We don't know how Yano and Yoshida will react, and I would hope they won't react the way they're meant to.  It's really obvious what's happening, but High School girls are known for being rational, and rumors can cause a lot of pain.  But we won't know until next volume.
Overall, Kimi ni Todoke is a wonderful story so far.  The romance is sweet and implied.  Sawako's awakening is a beautiful thing to see, and I really hope she has the friends that will stand by her and help her open up more.  I highly recommend this title.