Every week, the Manga Villagers will go through the new releases for the week and pick out the titles they are most looking forward to reading. Whether it's buying or just window shopping, check out what we're looking at every week!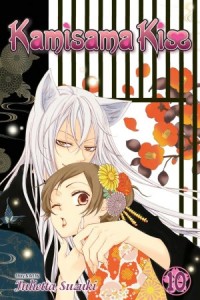 Alex: This is a huge week for Viz – they've released a ton of good manga, including the 20th volume of Kaze Hikaru, a series that is woefully unappreciated. They've also got the 13th volume of Bakuman out this week, and now that they have gone day and date with their digital offerings, I'll be grabbing my volume on the Viz Manga store. Not to be left out Kodansha is releasing the 6th volume of Sailor Moon to comic stores this week, and Vertical is releasing the second volume of Flowers of Evil. All in all, a great week for manga!
Lori: Kodansha has already got me with Fairy Tail and Deltora Quest, but Viz is neck and neck with the latest Bakuman and the penultimate volume of La Corda d' Oro. Yes, it is a guilty pleasure. Kamisama Kiss is another title I want to take a closer look at. With an anime slated for the fall, it must have a lot of potential. I was on the fence after two volumes. Volume 10 is out this week. And while Yu-Gi-Oh GX didn't have a stunning start, the last volumes call back to the Shadow Games of the first Yu-Gi-Oh! has made for some exciting duels. The series concludes this week.
Amy: I agree with Lori that my interest has picked up again on Kamisama Kiss with the upcoming fall anime series. I've read the first few volumes but may give them a re-read before the series begins. I'm really looking forward to reading the latest volume of Flowers of Evil. The first volume got me hooked right away and I'm sure I'll be reading the latest volume in one sitting.