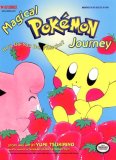 Magical Pokemon Journey Volume 1: How Do You Do, Pikachu?

by Yumi Tsukirino
Publisher: Viz Media
Rating: All Ages
Genre: Game
Price: Only available used
Rating:





What is the story about?
A new trainer named Hazel that started without a pokemon. Soon, she goes into the grass and finds a Pikachu. She trys to draw Pikachu but fails.
What did you like about the story?
I liked it when Hazel yelled at the Ekans. I loved how they drew the pokemon. I also loved how they made the Clefairy act.
What did you dislike about the story?
I hated when Pikachu was knocked out. I also hated the way Hazel drew Pikachu.
Would you recommend the story to kids your age?
Yes