"On the Second day of Christmas, my true love gave to me, Two girls named Nana."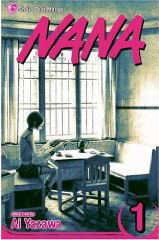 Nana Osaki and Nana Komatsu are two girls going to Tokyo to realize their dreams.  Nana O. is looking to put together a new band and make it big, with Nana K. is going to join her boyfriend with whom she hopes to find love and happiness.  From a chance meeting on the train to sharing an apartment, the lives of these two girls become entwinded as they strive to make their dreams come true.
I didn't think I'd like Nana when I received my first volume of Shojo Beat.  I didn't think I'd even like Shojo Beat, with all the emphasis Viz was putting on it being a "girls" magazine about romance and fashion.  But, when I got to those first chapters, which actually told all of Nana K.'s story in that volume, I was hooked.  I hadn't read much shojo before SB, so I didn't know what to expect, but it certainly wasn't what Nana turned out to be.  The characters were realistic, with real flaws and real problems.  Ai Yazawa's art is mostly realistic with a touch of manga comedy makes the funny scenes funnier and the dramatic scenes more serious.  Nana is a great series for fans of music, drama, romance, and just good story telling.
"And a One Piece for the Pirate KIng"