"On the Third Day of Christmas, my true love gave to me, Three Sibling Cards,"

Manami Minami decides to learn to play Chaos, a popular TCG.  Her cousin Tamotsu, who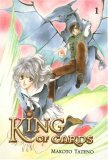 also plays, takes her to the hobby store to by a starter pack.  By a strange twist of fate, the pack she buys has an ultra-rare card in it, Sahgan, the Mighty Sorceror.  Manami quickly becomes the target of other Chaos players who want to challenge her for Sahgan.  With Tamotsu, her new friends from the card club, and Sahgan himself, who comes to Manami in her dreams to give her hints, she faces these challenges and grows as a player, while trying to balance her regular life.
I got King of Cards because of the art and the premise sounded intriguing.  I like a lot of game manga, such as Yu Gi Oh! Shadow Games, Legendz, and Hikaru no Go, so decided to give this one a chance.  And am I glad I did!  I have really enjoyed the shojo take on gaming manga.  Manami is more interested in enjoying the game than just winning.  Over the first couple of volumes, she gets a reason to get better, but it isn't to save the world or prove herself better than someone.  It's for love and her love for the cards.
I also really love the mythologies used to make up the cards.  The three ultra-rare cards that are the heart of the manga, Sahgan the Mighty Sorcerer, Faras the Holy Shrine Maiden, and Taurus the Alchemist, aren't a part of any established mythology, but seem to have had one built up around them.  They are call the Sibling Cards, as they were all drawn by the same artist who died at an early age.  Manami's romantic woes are the center of the shojo side of the manga, while the plot around the Siblings is the center of the card side.  This is a great manga, and even though it's shojo, I think guys will enjoy it just as much as the girls.
"Two Girls named Nana"
"And a One Piece for the Pirate King"