A Samurai during Japan's Warring States period (1467-1573), Daigo Kagemitsu wants complete control over Japan.  He promises his unborn son's 48 body parts to demons in exchange for that control.  When the baby is born deformed, Daigo throws the newborn into the river to die, but it is miraculously found by a doctor, Jukai, who makes prosthetics for the child and adopts him as his own.  When the boy Hyakkimaru is grown, he leaves home and begins a journey to recover his body parts.  Along the way he runs into a brash young thief, Dororo, whom he teams up with; together they battle demon and monster on their adventure to reclaim Hyakkimaru's wholeness.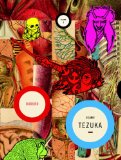 By Osamu Tezuka
Publisher: Vertical Inc.
Age Rating: Teen
Genre: Action/Adventure
Price: $13.95
Rating:





Dororo, first serialized in 1967, can be seen as a proto-shonen story.  It has many of the elements we now see in shonen titles today, though these were new at the time. Tezuka spins a memorable supernatural action/adventure tale and characters that really draw you in, and only disappoints at the very end, though not in story, but lack of it.
The first volume of this title is the introduction. Tezuka jumps from past to present, first telling of Daigo's deal, then introducing Hyakkimaru and Dororo. Hyakkimaru tells Dororo his story, trying to convince the young thief not to follow him, but Dororo doesn't give up so easily. After a few chapters fighting a demon that returns Hyakkimaru's arm, it's Dororo's tragic past that is revealed.  It ends with another demon defeated and Hyakkimaru gaining another body part.
This volume is the strongest of the three, with the great action sequences interspersed with the story telling. One of the themes introduced this is volume that continues through all three seems to be that of "No good deed goes unpunished". After Hyakkimaru and Dororo go through so much trouble to help rid villages of the demons that plague them, always their reward is to chased off with nary a thank you. Tezuka's fascination with human nature is seen here as the excuses the villagers often give is refusing to help a thief (Dororo) or Hyakkimaru's different appearance. Of course, it doesn't bother them when Hyakkimaru reveals his sword hidden in his arm when he's fighting a demon; Only after the demon's defeated and he might need something like food or shelter to rest.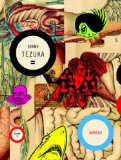 Volume two gets into more character development for Hyakkimaru. He meets his father, the ruthless Daigo and his second son Tahomaru. Things don't go well, and Hyakkimaru ends up killing Tahomaru in a duel and his father demanding his head. He sends Dororo away deciding he was better off dead when the old man from the first volume that gave Hyakkimaru the hope of becoming a great swordsman despite his handicap, appears. He helps Hyakkimaru see that he needs more in life than just killing demons, and a map to that mysteriously appears on Dororo's back proves to be it. Hyakkimaru decides to help Dororo find his father's treasure. This volume ends in must the same way as the first with Hyakkimaru defeating a demon, gaining a limb, and getting chased out of the village.
I've seen this volume described as making the series darker, and with all the needless killing of innocents in the first half, one could agree. But, the first volume already established that life was hard, and that Daigo was evil. Maybe "serious" would be a better description. We see just how hard life is and how evil Daigo can be.  We gain more insight into Hyakkimaru as well. He has no real purpose beyond finding his missing body parts. He isn't killing demons to help people. He has to kill a demon before he will know if it was one of the 48. The old man tried to get Hyakkimaru to realize this, but it's really Dororo that makes him see. Through their journey, Hyakkimaru and Dororo have formed a bond that neither can see, but certainly feel. It's this bond that makes Hyakkimaru more human than just his regained body parts.
Volume three picks up with the search for Dororo's father's treasure. Then there are a few demon hunting stories and the final story involves Hyakkimaru facing his father again and helping a village of farmers overcome him. Hyakkimaru parts ways with Dororo again after a revelation, and then leaves.  And…that's the end.
This volume starts out full steam and stays that way to the very end. Tezuka never shows any indication that these would be the last stories. Nothing is resolved, and if anything, things are set up to imply more to come, so that when you come to the end, it's like hitting a brick wall. The last page is nothing but a few lines that are woefully inadequate for what was up 'til now an exciting ride!
This brings me to the things I didn't like about this series, and there aren't a lot. The biggest problem I had with it was Tezuka continually breaking the fourth wall. Now, I don't mind a manga being referential, but I really don't like it when characters speak to the reader, break through panels and refer to things completely inappropriate to the title. Tezuka did this in every volume, though sparingly. But it was enough to distract from an already riveting story. He already had good comedic moments the Dororo. He didn't need to add these others.
The other problem was the abrupt ending. It wouldn't have been so bad if the pace had slowed some, or if there had been some indication that the story would be ending, but there wasn't. You get to the end of the last story, turn to the last page and are left stunned, wondering where the rest of the story went. It is a real disappointing end of an otherwise great story.
Overall, Dororo is a great story. The characters are fun and well-developed. The demons that Hyakkimaru and Dororo face are varied and interesting. The art is classic Tezuka, but it really grows on you. Do not pass this title up just because the art doesn't look modern and polished.  If you are interested in action and/or folklore/supernatural than this is a must read. Tezuka's shonen classic shows why so many creators used him as a template. This great story is only marred by a jarring end.