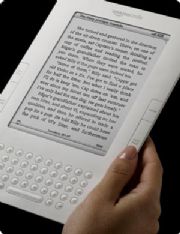 Today, Amazon.com had a big press event to unveil the newest generation of its e-book reader, the Kindle.  Speculation has been running about for while now that Amazon would release a new reader with leaked photos, increased orders of screens, and a long reorder wait at the Kindle store.
So, what's new about it? Well, not much.  There were some cosmetic changes, which many people called for when it first came out in late 2007.  It's lighter and thinner, has an estimated 25% increase in battery power, and more memory that will allow it to hold nearly 6 times more books.
What's in it for manga readers?  Again, not much.  It does boast a new screen that is capable of showing 16 shades of gray, as opposed to the first generation that could only show 4.  This would definitely improve the quality of black and white pictures, which makes up most manga releases.
What hasn't changed?  The two most important things that would make the Kindle relevant to manga readers; price and content.  The price hasn't changed, so it's still $359.  But in this economy, that prices the reader out of LOT of people's range.  Prices under $200 seems to be the magical limit for most consumers.  The Kindle was designed to be and remains a tool for the affluent and/or business person on the go.  This is most reflected in the content available for it.  You can get  103 of 110 New York Times best sellers, 230,000 total e-books, and 250 blogs and 23 newspapers.  A search of the Kindle store will give you just three manga volumes; Maximum Rider and World of Quest from Yen Press, and Japan Ai from Go Comi, and zero blogs.
This upgrade of the Kindle is more of a 1.75 than a 2.0.  They fixed some little issues and made some cosmetic changes, but little else.  There's still no graphic support without hacking, and although files can be converted, there's no support for other formats than the Kindles mobibook.  The SD slot was also taken out, so your 2GB of memory is it.
Jeff Bezos says "Our [Amazon's] vision for the Kindle is to have every book ever printed, in any language, all available in under 60 seconds."   I would think that would include manga, manga publishers would have to get serious about the format, and not just scoff it.  And then there are issues of licensing and price to consider, with Amazon pushing for lower prices, and taking 65% of that price.  Like the Apple Apps store, maybe it's just not worth it to publishers, which would truly be a shame.
Is the Kindle 2.0 worth it?  Unless you're a tech hound, or travel a lot for business, no.  Stay with paper books for now.