Even though most of the big Cons are in the summer, Con Season gets its official start now in February with the New York Comic Con, and I'm really getting to hate it.  Why?  Because of all the license announcements!  I am really, REALLY trying hard to cut down on the amount of manga I get.  I've done a brisk bit of trading at Mangatude (which I still highly endorse), and have caught up on several series, and I've got more complete series ready to go up on eBay.  I go through Previews, and am happy when I see titles completing.  Another couple of titles I don't have to buy.  But then, con season rolls around, and the list of titles I have to get suddenly goes up again!
Viz and Yen Press have already gotten me Fall licenses, Black Bird, Rasetsu no Hana, and Hero Tales.  But now, with news coming out of NYCC, my list is once again growing, and I've got to figure out how to juggle things again!
Let's start with Bandai Entertainment.  I'm a fan of the Gundam franchise, and I really enjoyed its newest incarnation, Gundam 00.  So has my husband.  So now, as well as keeping up with Code Geass and Ghost Slayers, I know have to add the Gundam 00 manga to my list of books.  While I don't generally approve of the incestuous relationship between manga and anime, which seems to be Bandai's licensing model, I don't mind this.  There isn't enough sci-fi/mecha manga for me, and I'll take it any way I can get it.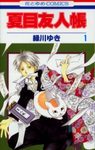 I continue my love/hate relationship with Viz, as they bring out a title I really wanted, but now have to juggle into my list of "must haves" again.  Natsume Yujin-Cho, or Natsume's Book of Friends.  This title was animated last year in Japan, and got a second season that just started in January.  It's about a boy that can see spirits.  He finds a book full on names that used to belong to his Grandmother, who could also see spirits.  She bullied them, and gained power over them by taking their names.  Natsume becomes hunted by the spirits who want their names back, which he is happy to return, and is assisted by a cat spirit who really wants Natsume dead so he can take the book and have power of the spirits himself.  The anime had a lot of humor, and touching stories, and of course, lots of Japanese yokai (which I love), so this is a definite must have for me!
Beast Master is another title that sparked my interest, but it's not a must read.  I just like books about animals.  The plot is about a girl that can get near animals because they run away from her, befriends a boy who tends to look and act like a wild animal.  Will he end up running away from her too?  It sounds interesting, but we'll just have to see.
I'm interested in Rumiko Takahashi's new manga, which Viz also announced they would be releasing, but it depends on what is going to be about.  I generally like Takahashi's work, but I'd really like to see Viz re-release her earlier works, the flipped titles, unflipped and in the BIG format.
And I know everyone is thrilled with Yen Press' rescue of Yotsuba! from ADV.  There's a whole lot more that needs to be rescued from them (Matantei Loki Ragnorok, and while you're at it, license the first series Matantei Loki since the second series doesn't make sense without the first), I'll be more excited to see titles from long gone Gutsoon!  I want my City Hunter and Angel Heart!
But, I guess I should be glad none of these other things are coming to pass.  It would just mean more manga to buy, trade, whatever.  And until I can get a dedicated library for them, that just can't happen.
Edit: Katherine Dacey over at Good Comics for Kids just had to point out two more titles, Manhwa from Yen Press that will probably go on my want list.  Raiders, which she describes as having an archaeological twist (there just isn't enough manga about archaeology/anthropology.  Someone license Master Keaton!), and Laon, a story about a nine tails fox losing his power.  Ah!  I can't take anymore!!