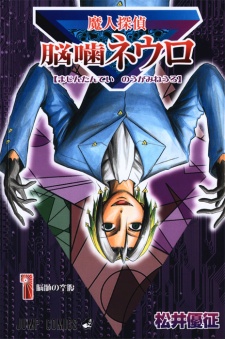 ANN has reported that the Japanese supernatural mystery manga, Majin Tantei Nogami Neuro will end this month.  Starting in 2005, it's racked up 21 volumes.  The only thing I want to know, is WHEN ARE WE GONNA GET THIS?!
I'm a professed lover of supernatural and mystery manga, so where there's one that combine these two great tastes, I want to taste them together.  I've seen some of Nogami.  The anime was fansubbed, and being a mystery series, I had to check it out.  And I loved it.  Neuro is a demon who eats mysteries.  The stranger the mystery, the better the taste.  He teams up with (enslaves more accurately, he is a demon after all) a high school girl Yako Katsuragi.  She loves to eat, and has an unsolved mystery about the death of her father.  Neuro will help her solve the mystery if he can eat it.  Neuro uses Yako as his "public face".  He solves all the mysteries, and she takes the credit.  They are joined by Godai Shinobu, a yakuza who is roped into working for Yako and Neuro after he wins a bet and takes over the Yakuza's small office, and Akane, a disembodied braid of hair who is a wiz on the computer.
http://www.youtube.com/watch?v=NQTILOsPhv0
The characters ranged from quirky to downright weird to disturbing.  Neuro can switch from gentle to psycho in .01 seconds!  He is just awesome in both his human and demon form.  He constantly refers to Yako and Godai as worms, and looms over them ominously if they don't do as he says immediately.  Yako loves to eat, and seen most of the time downing several bento boxes.  Though any time it comes to her father's death, she gets serious and meloncholy.  Godai was just funny as he's forced to do Neuro's bidding, and complains about it the entire time, but doesn't mind help Yako.  Kind of the Yakuza with a good heart.
Neuro is actually a good detective, much the chagrin of the police officers who's cases he and Yako always solve.  The mysteries were interesting, and the plot got more serious as the series went on.  Don't know if it's the same as the manga, since liberties can and often are taken, but I still love the characters and mystery, and that's all I need.
So, someone, ANYONE that can bring out the full series, (Viz, Yen, Del Rey, I'm talking to you), please license this in the US!  It's too good of a series to be passed up.  There just aren't enough fun mystery titles to read!  It would make a great SDCC announcement/gift.  **wink wink**