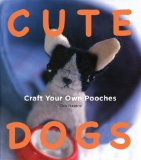 Cute Dogs: Craft your own Pooches

By Chie Hayano
Publisher Vertical, Inc.
Age Rating: All Ages
Genre: Craft
Price: $14.95
Rating:





Vertical Inc is a unique publisher in the manga world.  They are a boutique publisher who does more than bring manga over from Japan.  They also publish novels from horror to business, Sudoku puzzle books, and coolest of all, craft books.  Their newest release is Cute Dogs, which is filled with exactly that; little stuffed dogs that don't just look cute, but look fun to make.
Cute Dogs is a thin book at just 79 pages, but it's packed with 16 different dogs you can create on your own.  Ranging from the Boston Terrier, Chihuahua, Welsh Corgi, Miniature Dachshund, to the Miniature Schnauzer, you'll find many of the most popular dog breeds.  The first half of the book is filled with pictures of each of the finished pieces, showing them from different angles so you know how they should look.  They are all posed with accessories like food bowls, wagons, bowls and baskets.  All the dogs have names and little sayings that give them personality.  It's fun just looking at these pictures and reading about each dog.  After seeing all the stuffed dogs, we are introduced to the real dogs that worked as models.  They all have wonderful personalities too.
The second half of the book gets into the crafty stuff.  All the materials needed to make these pooches are pictures and described, as well as all the tools.  There is also a basic sewing guide that shows all the stitched needed and how to do them.  There are only three, and they are pretty simple.  Then it gets into the nitty-gritty of cutting, preparing, and sewing the dogs together.  It's step-by-step, taking you from start to finish through Bob, the Boston Terrier.  He's the template.  The rest of the dogs have their own variations, but the construction is the same for all.  The directions are clear and concise, with pictures illustrating them, making them easier to understand.
I really enjoyed Cute Dogs.  The dogs are cute, and they look to be fairy easy to make.  Teens would have no problem making these, and even Tweens, with some supervision could do them!  I'm definitely going to try making some of these pooches.  Just paging through the book started giving me ideas of what could be done with them.  Crafters and dog-lovers alike with love this book.  Now, where's the Cute Cats book?
Review copy provided by publisher.