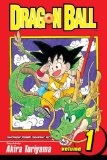 I have mixed feelings about this. Dragon Ball is being reviewed for it's content in a Maryland school district because a 9-year-old checked it out of a elementary and middle school library. I think people are oversensitive in general and especially towards manga.  I'll agree that Dragon Ball doesn't really belong in the hands of a fourth grader, but I think it's fine for a middle school student.
The first Dragon Ball series is a comedy that does contain some sexual innuendo.  The first volume does have a few questionable scenes, but I wouldn't go so far and the Councilman from Wicomico did to describe them.  I might be able to see the "sexual innuendo between an adult and child", with Master Roshi wanting to seen Bulma's panties, but there is in no way anything sexual between Goku and Bulma.  Bulma is more like a big sister to Goku.  And Goku is too dense to get any kind of innuendo.
So I can see a parent getting upset at their 9-year-old bringing it home to read. So that doesn't bother me so much.  What does is the way it was presented.  The mother of the offending 9-year-old didn't go to the school library to complain or challenge the book, and let the school's review committee take over the matter as it is designed to.  Nooooo, she asked to be anonymous and went to her Councilman and let him publicly decry the book with the moral indignation that only a politician can.  And the Principal, who just happened to be at the meeting for another matter, jumped in to say the book would be removed ASAP.
Why was this necessary?  Books are challenged all the time.  Why did this particular book have to get the attention of a Councilman and be publicized at a County meeting?  Does the mother and Councilman not trust the system put in place by the school to review offending books? Review committees were created to handle these issues.  They are there to make sure the whole community is served, and not just a small, vocal minority.  Let the system do it's job.