In the last years of the 20th century, a cult has been growing in power and popularity, led by a mysterious man known only as "Friend"  This has little bearing on convenience store owner Kenji, until a childhood friend of his seemingly commits suicide.  A closer look into it reveals that there may have been more to it, and it could have something to do with the cult.  As Kenji looks further in, he finds that the cult and it's leader is following a story he and his friends wrote when they were just kids, about an evil power trying to take over the world and the heroes who stop them.  Kenji decides to try and stop The Friends with only the help of his childhood friends.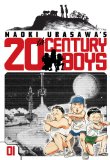 By Naoki Urasawa
Publisher: Viz Media
Age Rating: Older Teen
Genre: Mystery/Thriller
Price: $12.99
Rating:





[May contain spoilers]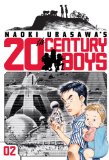 20th Century Boys is a mystery/thriller story, something of a specialty for it's creator, Naoki Urasawa.  The story spans 45 years, from 1969 to 2014.  These first five volumes cover mostly the 1969-1997-1999, and only touch on 2014 at the end of the fifth.  The story isn't told linearly.  It jumps from 1969 to 1997 and all around 1997 to 1999.  The scenes in 1969 sow the seeds of the story, telling the beginning.  In 1997, the Friend's plot is uncovered and this is where the investigation starts.  1999 becomes the race to stop The Friends, but is far from the end of the story, as the sudden jump 15 years to 2014 shows.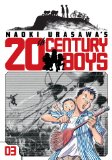 The story starts out strong.  It introduces the characters as they were kids, in 1969.  We see what they were like, what they did, and how their friendships were made.  In the 1997 present, we see how their lives turned out.  Most, like Kenji, didn't get to live out their dreams.  They married, took salary-man jobs or took over family businesses.  While the characters are being established, clues about the mystery are starting to be dropped.  Everything we see in the 1969 scenes have some bearing on the clues dropped in 1997.  Kenji and his friends built a clubhouse in an overgrown grassy field where they could listen to the radio and read manga.  While hanging out there, they created the story, The Book of Prophecy, that starts to come true in 1997.

The first three volumes is spent building up the mystery of the Friends and their connection to Kenji and their childhood.  An elementary school reunion gets the ball rolling, and one person's memory sparks another and another as they begin to piece everything together.  They become a rag-tag group of heroes fighting against a huge, evil organization bent on world domination.  Just like in their story.  It's easy to get behind Kenji and his group, the underdogs fighting for right.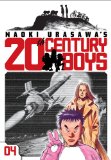 It was in volume 4 that I started to have a problem with this series.  The time jumping narrows greatly to between 1997 and 1999.  It becomes very difficult to keep these time jumps apart, and left me scratching my head, and having to go back and re-read sections to figure out what was going on.  A mystery is about pitting your wits against the author, not fighting to just read the story in the first place.  This really pulled me out of the trance their first three volumes had cast on me.  I became less engaged with the characters that I had really started to like.  It was a big let down.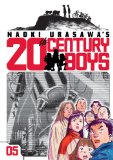 Volume 5 didn't do anything to improve this.  It's 1999 now, and Kenji and his group, now branded terrorists, go to fight against the terror they have seen coming for the last 3 years, but are still unprepared for.  As they race away into the night, the story suddenly cuts to 2014.  We never hear any details of what happened, but enough clues are dropped that it probably didn't go well.  Even as I read the last half, I still spent a lot time wondering "What happened?"  While this and other questions should have kept me enthralled and dying to read more, it didn't really.  It actually left me more frustrated, and not in a good way.  I'm curious, but not that I'm counting down the days to the next volume.
Urasawa has quite an ability to start a story, and build up the mystery.  He drops hints judiciously, leaving clues for the readers to connect in the next chapter, volume or even several volumes later.  A few chapters in volume 2 that seemed to have little relevance suddenly take on a whole new light in volume 5.  He is also very good at misleading the reader.  One scene that is seen several time throughout  these five volumes takes on a completely different meaning at the end of volume 5 than you would think from seeing it in volume 1.  I was impressed with that.  It was a great turnaround.  But volumes 4 and 5 lost the momentum that volumes 1-3 built up for me.  I'm not quite as excited as I was to read this title.  I'm still intrigued by the mystery, and I do want to know what happened and what's to come.  There are still 17 more volumes in this series, so I expect a lot more twists and turns.  But I don't know if it can regain the momentum it had at the beginning.