When Alex's sister, Sarah, vanishes and all memory and evidence of her existence is erased, Alex is determined to get to the bottom of her sister's disappearance.  What better place to start her investigations than the Nightschool itself?  But when she discovers that sneaking into the Nightschool isn't as simple as it might seem, Alex enrolls as a student.  But is she prepared for what she might find?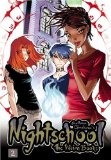 By Sveltlana Chmakova
Publisher: Yen Press
Age Rating: Teen
Genre: Supernatural
Price: $10.99
Rating:






Buy This Book
The action in this volume moves to the titular Nightschool as Alex is forced to enroll in order to find out about her sister's disappearance.  We learn more about the school and it's inhabitants as Alex goes through orientation and attends a class.  We also see more of the Hunters as well as the seer Marina, as they relax and train at home, and more clues about the broken seal mentioned in volume 1 are dropped.
In order to find her sister, Alex tries to enter the Nightschool, and is twice evicted, but not before meeting Ronee, another weirn that is somehow connected with the prophesy and Alex.  So instead, she has to enroll in the school.  Mrs. Hatcher, the Day Keeper is great, and I love the dragon hatchery that she has to take care of.  They are so cute!  Another possible clue is dropped about Alex's past as her pencil hovers over a cursed check box.  Once enrolled, she starts to play detective, and gets a tour of the school as orientation.  The best scene though, was her in the Astral Training class and showing up teacher Mrs. Murrey.  I especially liked Alex's astral making the origami, and the page with Alex sprouting the wings really made this volume.
Also in this volume we get to see the Hunters on their home turf, studying and training.  They appear to be home schooled in much the same way as Alex.  They seem to be like a family, with all the sibling rivalry and play that comes with it.  Daemon, their "teacher" continues to be a mystery, as he is shown to have a connection to a teacher at the Nightschool, Mr. Roi, who also seems to have a connection to the broken seal seen in Marina's vision.  He also looks like someone you don't want to make angry.  There is more background on the prophesy, but still no answers.
Nightschool: The Weirn Books continues to move at a good pace.  The clues about the prophesy, the mysterious hooded shades who keep appearing, and the Alex's sister's disappearance are dropped at a slow but steady rate.  It's at just the right speed to keep readers interested and wanting to know more.  The next volume should definitely prove interesting as Alex and Mr. Roi seem destined to meet.  This title remains on my must have list and it should be on yours.
Review copy provided by publisher. Image © Yen Press