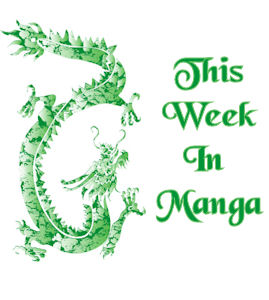 Nature vs Nurture
The scanlation debate continues this week.  The first salvo fired was by Kate Dacey of the Manga Critic blog.  Spurred by a tweet that pointed to a link to a review of a Chrome plug-in for OneManga, she explains why a aggregator site like Onemanga is illegal.  Johanna Draper Carlson replies with a post that readers of scanlations know perfectly well what they're doing is illegal, and just don't care.  So is it the nature of the net, or a learned behavior?  I think it's a combination of the two, since a lot of kids are either hearing about the sites from their friends, or searching Google, and the aggregator sites always come up on top.  And it's going to take more than a "Just Say No" campaign to change things.  Most teens, who are probably the majority of online readers, either don't know or don't care about copyright.  Knowing is only half the battle, but as long as the illegal sites come up first in search engines like Google, behavior isn't going to change.  If publishers don't try to take down these sites or offer legal alternatives, then readers are going to think they think it's okay.  Simon Jones of Icarus Publishing (NSFW) pretty much makes this point.
It's going to take action from creators and publishers to effect change.  David Welsh of the Manga Curmudgeon asks readers for suggestions on how to convince creators and publishers that they need to do something. But why do we as fans and consumers have to convince them?  We're told time and again that scanlations are hurting the publishers and the creators.  So why aren't they doing something?  We can't do all the work.  They need to do some of the work, and even if they can't have the work taken down, they can demand that the work not be available in areas where the work is licensed.
My Manga is Broke.  Make It Go.
Jake Forbes, a fan, editor and translator has a few words for Japanese and American Publishers as well as Manga fandom.  A lot of what he says has been part of the debate that's been going on for the last few weeks, especially toward the publishers.  His words to fans will probably hit home more than anything else.  A few things struck me.  I don't really see how "the conversation" over anime and manga has changed much from the early days he speaks of.  It's always been about finding out what's new and trying to get it.  The internet has just made it easier.  And even if fans aren't a part of the industry, neither do publishers live in a vacuum.  Fans have been involved with the industry in one way or another for years, be it becoming a part of the industry (as Jake did), starting companies (such as CPM), or influencing what publishers license, as they look at scanlations to see what's popular in the community.  You can say all you want that fans might not know the specifics, but don't say we're just the consumers.  If that's how the industry feels, then they should just cut ties, C&D all the scanlation sites and don't worry about fan backlash, because we're just consumers after all and don't matter.
Twilight Sparkles in its First Week
This should come as no surprise.  The first volume of the manga adaptation of the first Twilight novel has sold 66,000 copies in its first week.  It had reached Amazon's top ten just in pre-orders, but it's interesting to see those pre-orders translated into sales numbers.  This is just one more reason for publishers to look at adapting novels into the graphic format.  Manga and anime have been doing for years with all the light novel adaptations.  Why should the US market be any different?  This is a real opportunity to get a domestic market growing, and it's one that we shouldn't pass up.  There are so many great series' out there that would make the transition to manga so easily, with an established fanbase to jump start them.  I certainly have a long list to titles that would love to see in GN format.
Women of the Mangasphere
Melinda Beasi of Manga Bookshelf digs into her blogroll to create a list of female bloggers, presented in a convenient alphabetic format.  Spurred on by a discussion she heard about, the list is actually rather long.  It really helps to hit home how female-dominated manga is.  There are male manga bloggers out there, of course, but not as many as the women I think.  Of course, the men still out number us in anime and podcasts.  We really need to change that.
News From Japan
Dirty Pair Gets Manga Finally!
The Dirty Pair has long been a fan favorite, especially among old school anime fans.  We did get a release of the original novel they were based on from Dark Horse, and Right Stuf! has just announced a licensing of the anime, but the really cool news for manga fans is that a manga will be published, based on the original novels.  While the news is great, and the possibility of a license of said manga may improve depending on how well the anime sells, I can't say I'm thrilled with the new designs.  I'm such a big fan of the anime, that the new look they're giving Kei and Yuri is actually a turn off.  So is the 3W across their chest…  Hopefully the adaptation is good.
CGI Harlock
Another title I've been a big fan of throughout all his incarnations over the years is Captain Harlock.  So, news of a new movie will always get me excited.  That it will be CGI was a bit of a damper until a screen shot of Harlock in his throne was released.  Now, I'm really looking forward to this movie!  Of course, what would be really awesome would be if Captain Harlock manga was to be released, but the old school look of Matsumoto's as well as being from the 70's makes that an impossibility.  I'll just have to content myself with the four volumes I found at Books Nippon back in the mid 80's.  They are one of the incentives I have for learning to read Japanese.
NYT Best Seller List
Twilight The Graphic Novel hit #1 on the list this week, just not in manga.  You'll find it in the Hard back graphic novel list.  The NYT's categorizing a little strange through.  The Death Note novel showed up on the manga list, but X-Men and Twilight are considered comics.  Is it a nationality thing?  Anyway, there's very little change in the list this week.  The top 3 remain unchanged with Naruto vol 47, Bleach vol 30, and Black Butler vol 1 continuing to hold the #1-3 positions.  Vampire Knight vol 9 returns to the #4, possibly because of Twilight, which moves Soul Eater vol 2 down to #5.  Alice in the Country of Hearts vol 2 and 1 continue to move hand in hand, taking #6 and #7, while Negima! vol 25 falls the furthest to #8.  Maximum Ride vol 1 returns to the list at #9, and Skip Beat vol 20 hangs on by falling 1 to #10.  Viz loses it's advantage this week with only taking 4/10 while Yen increases its ratio to 3/10.  Tokyopop really has a surprise hit on their hands, but I'm sure all could have done as well as Twilight. Even with all their titles combined, they probably couldn't even touch Twilight's 66,000.
Manga For Your Ears
Manga Out Loud
Sci-Guys
This Week at Manga Village
What I've Been Reading
Taimashin vol 1
Twin Spica vol 1
Goong vol 1