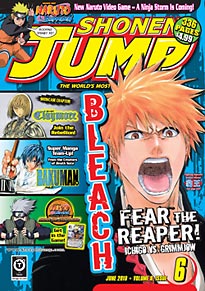 It's a new month and that means a new issue of Shonen Jump, the soon to be last bastion of manga magazine's in print. This month continues the preview of Bakuman, spotlights Claymore, and gives a lot more of the same battle manga that has dominated the magazine for the year. Yeah, I can't say I was all the enthusiastic to pick it up. But let's start at the beginning. Once you get past all the ads and more ads disguised as "news" you get to some actual manga.
First up is the second chapter of Bakuman. At the beginning there is a short blurb on how kanji can be pronounced in different ways and have different meanings. This will be interesting if you enjoy word games or plays on words. The actual chapter has Akito and Moritaka still debating about becoming manga artists. While the first chapter did pique my interest, this second chapter manages to squash it. Akito gives a lengthy lecture about how the love of Moritaka's life, Miho, is smart because she doesn't act too smart, and is just passing time until she gets a husband. Yeah. The whole thing nearly bordered on offensive as far as I'm concerned, and does not impress me in any way.
Naruto was on the less-than-impressive side this month as well. The fight between Killer Bee and the Akatsuki Kisame begins, while Sakura goes to Naruto to confess her love for him, because she thinks that will stop Naruto from chasing after Sasuke. Apparently she thinks Naruto will just give up because she tells him too. And her confession is light on any real feeling. I wasn't buying what she was saying, and I'm glad Naruto didn't either. I've never cared for Sakura, and this just reinforces my feelings.
The one bright moment in the magazine continues to be One Piece. Luffy's and Buggy's groups back out of Impel Down, only to have the ships sailing away. It's up to Jimbei, Crocodile and Daz to secure a ship while Luffy keeps Magellan at bay. He figures out a way to fight Magellan with Mr. 3's help. Jimbei shows some of his power as he hits the sea to help everyone. More good action here. And I like that Luffy uses his brain instead of just brawn to keep Magellan back. But it's Bon's sacrifice at the end that proves his friendship with Luffy and makes for a great ending.
Bleach starts the actual fight between Ichigo and Grimmjow. It's 57 pages of one-upping. Ichigo only fights as much as he has to, and Grimmjow just keeps upping the ante, that is until he threatens Orihime and Nel, and of course that's when the hollow mask comes out. Grimmjow takes on a panther like shape, and battle goes on.
Ultimo continues into territory I don't care for, with all the evil karakuri doji killing all the good karakuri doji, forcing Yamato to play exactly into their hands. I HATE that good always has to be shown as weak and lose against evil. It's become a plot device that I've really grown to hate, just as I have this series.
The showcase manga this week is Claymore. The chapter shown in this issue is from the upcoming volume 16. If it's meant to draw me into the manga and check it out, this chapter doesn't do a very good job of it. I spent more time scratching my head, wondering what was going on that being drawn in. There's a seven-year jump in the manga, which is where volume 16 starts. This chapter starts with Clare (the protagonist) and a few other Claymores taking to a bald guy, and then it switches to two more Claymores, watching three fight off a huge Yoma. The two spend all their time commenting on he abilities of the other three. There's nothing to really latch onto in this showcase. It shows the action, but I get more than enough action as it is, and often done better.
No news in this volume about any up coming changes to the magazine, and there no Showcase manga next week.  There will be Yu-Gi-Oh 5D's card though. Look forward to that. As it stand now, I read Shonen Jump just to have post to write, not because I look forward to the titles anymore (other than One Piece). With the end of the Bakuman preview next month, I'm hoping once again, for some kind of good announcement about some new title being added to the magazine. I would seriously consider canceling and switching to Yen Plus, but not with it stopping its print edition (my prefered method of reading). It's starting to look like manga magazines are going to the way of the dinosaur, which is a shame.