Souka and her recently divorced mother are looking for a fresh start, so they move to a new place where no one knows them. Souka embraces the idea of starting over and takes it as an opportunity to leave her private school days behind and enroll in the local tech school. The first day of school is nothing quite like she imagined it would be — she is the only female around! Unfortunately, not everyone welcomes Souka with open arms, including the school leader who tries to ambush her. But when she takes him down in front of everyone, Souka becomes the new school leader!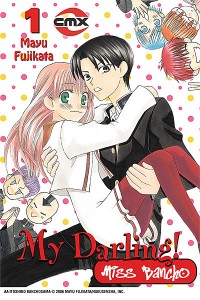 By Mayu Fujikata
Publisher: CMX Manga
Age Rating: Teen
Genre: Romance/Comedy
Price: $9.99
Rating:





My Darling! Miss Bancho is a romantic comedy where there's more comedy than romance going on in this first volume. It's got a lot going for it with a good cast of characters, cute art, and a just plain fun story.
Souka, the female protagonist, is trying to be a responsible daughter and help her recently divorced mother, by deciding to go to a public technical school, which will cost a lot less than the private high school she had been attending. Even though she researched the schools thoroughly, she didn't check the student body. The school she choses, Tokugawa Tech turns out to be full of delinquents.
Souka is a strong female lead, just the way I like them to be. She isn't easily intimidated. She returns to the school even after seeing the delinquent students, and classes ending early on her first day due to fighting. She can certainly hold her own somewhat with the boys, especially in her class, as she has some violent tendencies of her own, though, they only seem to come out when Katou is in trouble. Trying to help him is what gets her into her predicament in the first place.
Katou is a fun male lead and love interest for Souka. He is the leader of Sophomore class and is a tough fighter, even daring to take on the bigger seniors. He's also very motherly to his fellow classmate. He's constantly scolding them about their appearance, and fixing their uniforms. He even fixes Souka's tie on her first real introduction to him. This dichotomy in his character comes across as very funny, as it's easy to see.
The chapters in this first volume mostly document Souka's gradual, and accidental take over Tokugawa Tech and then Toyotomi Agricultural. She never means to get involved with the fighting, but a simple iron plate in her book bag, given for her protection, becomes the vehicle to her rise in power. And it's still funny the second time around, even when you see it coming. Souka is constantly trying to deny her position as bancho, but she does show an affinity for the position, especially in the chapter where they all go to the beach. One of the funnier moments in the title, is how it keeps track of Souka's growing minions. I really enjoyed those.
The romance takes a backseat throughout the volume to all the comedy about Souka's new title. There is an attraction between Souka and Katou, but neither of them see it. They both act as if they're trying to protect each other out of duty or friendship, but the strange feelings Katou gets when Hideyoshi shows an interest in Souka are obviously not based on duty alone. I have to say, I prefer it this way. Their inability to see their romantic potential really suits the characters, and it keeps the romance from getting in the way of the comedy. It actually adds to it, as we the audience see in the Beach chapter that Katou is reacting to Hideyoshi's advances towards her, while Souka thinks she's don't something to make him mad at her.
The art, like the story, is light and fun. All the characters have a cute appearance rather than anyone looking hot. And there are some ugly guys too so far. Some of the characters make funny faces, but it never goes so far as to going chibi.
This first volume of My Darling! Miss Bancho is a great start to what looks to be a fun series. Unfortunately, we will never know, as the second volume was scheduled to come out in July, AFTER DC's publishing cut off date. It's a real shame too, since this title was shaping up to be another great tween title, and CMX seemed to be the only publisher to find titles that really appealed to this demographic. This is a title definitely worth a license rescue. Check out volume 1, even if there might not be any hope of a second. The characters and story are a lot of fun, and since the final chapter ends neatly, it will still be a satisfying read.