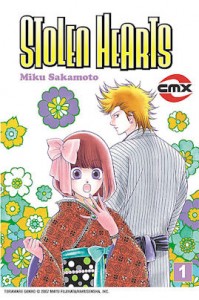 It's been a few weeks since DC announced the end of CMX Manga, and the mangasphere has had something to say about it, including me. And then there's been the inevitable analysis of why CMX failed. Some have said it was because they didn't have a recognizable brand or specific line. Others have said it was because one person was choosing the licenses. Hindsight is 20/20, so it's easy to try to come up with different reason but were they really the cause?
It's been suggested that one of the reasons CMX failed was because they couldn't find an audience. Their licenses were all over the place, from 70's shojo to senien to horror. There was no focus to titles chosen, and therefore no audience to focus on. Is this really a bad thing though? I thought CMX has a great catalog because of all the variety. You could find something for everyone in it. Something for kids and tween, comedy romance, drama, horror, even historical. Variety is the spice of life! And putting all your eggs in one basket is never a good idea. Having a diverse catalog is just what a good manga publisher should have. And CMX diversified well. If manga were stocks, any financial advisor would be proud!
It's also been suggested that because one person, Asako Suzuki, was chosing the licenses for the company, and that she was only choosing titles she liked  but didn't necessarily sell well. I really can't agree with this. One person chosing the licenses is probably more the norm than the except with manga publishers. And after one person making decisions, well, look at Kurt Hassler when he was at Borders. He is credited with creating the manga selection at Borders and was at one point called one of the most important/influential people in manga/comics. He chose the titles he liked and thought would sell well. Asako no doubt did the same, and I think she did a good job. I certainly found a lot of her choices good!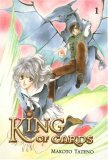 So what was it that made CMX fail? It's been said over and over before, but I'll say it again. It's parent company, DC didn't do anything to market that line. Putting a solicitation in Previews is not marketing. DC claimed they would bridge the manga and comic store gap, yet did nothing to help retailers or promote the books to bloggers, bookstores or librarians, their three strongest avocates. You can't buy or recommend books you don't know about. While there were other factors that contributed to its ultimate end, the mishandling of the imprint in its first year, and then being completely ignored for the rest was the main factor in its lack of sales.
And it's such a shame too, as they were on the verge of releases some really promising titles. Word was getting out to reviewers. They were one of the few active publishers on Twitter interacting with reviewers and fans. If no one can or will rescue these, here are the titles that will never see an official english translation:
Nyankoi
Shisso Holiday
The Phantom Guesthouse
Tableau Gate
51 Ways to Save Her
Polyphonica: Cardinal Crimson
Nadeshiko Club
Even though we mourn the lost, there is still plenty alive to celebrate about. While I'm disappointed some titles may never get finished, I am glad for the ones I have been able to read and review, even for just the first volume. These are the titles I've been able to review for far, and will continue to review. As long as there are volumes available somewhere, I will continue to recommend the work, not for DC, but for the staff that really cared and put all their time and effort into getting these titles out for us.
Besides all these titles, some of which I still have volumes left to review, there are still more I haven't gotten to yet. Key to the Kingdom, Fire Investigator Nanase, Two Flowers for the Dragon, Canon, Kiichi and the Magic Books, Recipe for Gertrude, VS, and Venus Capriccio are all yet to be reviewed. And there's still more I want to pick up volumes of and read still:
Apothecarius Argentum

Astral Project – Tsuki no Hikari

Ballad of a Shinigami

Moon Child

Name of the Flower
Are there any other titles I should check out? I know there are. People on Twitter listed off their favorite titles and there were several I'd love to check out, but can't remember! So, leave me a comment and tell me what other CMX titles I'm missing out on.