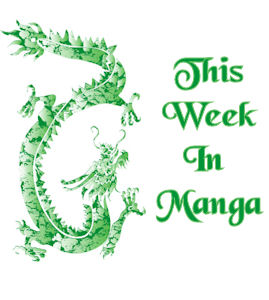 About Freakin' Time!
The big news of the week was announced on Tuesday. Manga publishers in both the US and Japan have banded together to create a coalition to fight online piracy. They are starting with manga aggregator sites  with make it easy  for scanlators to put their titles up in one place and for readers to find and read them easily. 30 sites have been targeted, though no names have been mentioned. Though you can be sure Onemanga will be one of them, as they got a lot of press last week about making Google's top 1000 websites. The Mangasphere had a lot to say about this, and you can find a lot of the reactions rounded up here. Bloggers have been going on about this for a while, and it's about time publishers did something. For all we know, this might have been in the works for a while, to first get the Japanese publisher to band together, and then bring in the US publishers. While this initiative won't complete wipe out piracy online, as long as gets the aggregator sites off as the first result in Google when searching for some titles, I'll be happy.
Looking for Solutions
Stopping aggregator sites is a short-term and answer to a problem, it doesn't really address the real issue that aggregator sites seemed to be an answer to. Readers want to be able to read more manga online. Once the current aggregators are gone, if manga publishers don't address this problem, they will start appearing again, this time in places where the coalition doesn't have as much sway. Jake Forbes, manga editor and writer of Return to Labyrinth has a very digital suggestion that would allow scanlators, creators and publishers to work together and address some of the issues scanlators say they have with licensed titles.  Scanlation site Manga Helpers, which was in the news last year for trying to reach out manga publishers, has simultaneously announced it will stop hosting scanlations and will start a new business model called Open Manga. Details are vague on the business model, and they might be premature in announcing it without any details. Without the scans though, Manga Helpers does appear it can be a useful site, if it returns to concentrating on helping translators improve their skills.
Meanwhile, Erica Friedman of Okazu has been working on the solution to scanlations for while and posts her article. It's long but filled with a lot of good information about the history of scans, why they were a solution to a perceived problem, and what the solution to the solution should look like. Finding the right solution will not be easy, and I suspect publishers will not find it for a while. Apple and iPad are not the answer, nor totally is a web-based solution. It's going to take technology, creators and publishers working together to get digital manga where it's available for all, and that's what really want, isn't it?
Masters of Manga
Marc Bernabé, a professional translator and writer (mostly in spanish) has started work on a book, not just about manga, but it's creators, the mangaka that come up with and drawn all our favorite titles. He has interviewed and filmed 30 mangaka, many of whom are well-known in the US, including Ken Akamatsu, Kaiji Kawaguchi, Umezu Kazuo, and Naoki Urasawa. He's now putting up some of his filmed interviews, translated on his blog. If you're interested in learning what goes on in the heads of mangaka, go check out this site.
NYT Best Sellers List
This week, Viz takes back its dominance of the list, but only just. It has a lot of new volumes to the list, but not all of them have the stamina to stick around long. First, over on the Hardback list, Twilight is spending its 12th week there at #1 again. Manga's new #1 is no surprise. Naruto vol 48 jumps right into the top spot. Following behind it is Vampire Knight vol 10 debuting at #2. Also debuting at #3 is a series no stranger to the list, Bleach, with vol 31. Last week's #1, Negima! Magister Negi Magi vol 26 falls three to #4, with Black Butler vol 2 holding right being at #5. Debuting at #6 is Yu-Gi-Oh! R vol 5 as does Dark Horse title Hellsing vol 10, coming in at #7, and is the final volume in that vampire series. Tokyopop returns to the list with vol 3 of Alice in the Country of Hearts at #8, and spots #9 and #10 are held by new volumes of One Piece, 50 and 49 respectively. Viz gets 6 of the 10 posts this week, with Del Rey, Yen Press, new comer Dark Horse and Tokyopop all getting just one. It's hard to say which titles will make to next week, as most of the titles here have a history of hanging on. My guess would be that Hellsing and Negima will be the first to go, as could the two One Piece volumes. I don't think Yen Press can stand to have just one title on the list for long.
News From Japan
Bunny Drop goes Live
Bunny Drop, a josei manga that has just started release here in the US through Yen Press, has just been given the green light for a live action movie adaptation in the Japan. The manga follows the story of Daikichi, a 30 year-old bachelor who takes in his deceased Grandfather's illegitimate 5-year-old daughter. The first volume of this title was fantastic, so I have high hopes for both the film and it's eventual US release. The story is funny and warm and well written. If an adaptation can keep all that, this will be film well worth getting.
Manga For Your Ears
Sesho's Anime and Manga Reviews
This Week at Manga Village
What I'm Reading
The Color of Water
The Color of Heaven