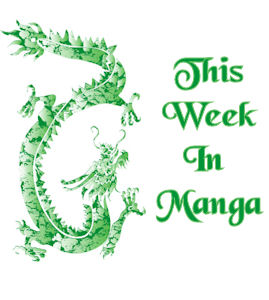 Anime Expo Con't
Anime Expo continued on Saturday and Sunday, but there was only one panel the rest of the weekend of interest to manga readers. Viz Media held their panel on Saturday. Most of their news was just reiterations of previously confirmed titles through sightings on Amazon, but they did have some new titles, all from already known and published mangaka here in the US. Deb Aoki has the run down about the panel and new licenses.  She also takes a closer look at DMP's new titles. Also announced at Viz's panel was the streaming of a new anime series, Nura: Rise of the Yokai Clan. It's published in Weekly Shonen Jump in Japan. Any bets on this being a new license to be announced at SDCC? Maybe it will be serialized in Shonen Jump magazine, and there will be something worth reading other than just One Piece! Am I just dreaming now? Probably.
AX's Manga Evolution
Over at Robot6, Brigid Alverson takes a look at the evolution of manga publishers and their announcements at AX over the last 5-6 years. It's an interesting bell curve, as you can see publisher attendance and announcements seem to wax and wane with the market. It's a good history lesson, so go check it out.  I'll wait.  What would be really interesting is to look at this trend and compare it to manga publishers at San Diego Comic Con. Does SDCC follow the same trend? Or would it show a different kind of graph? I think the announcements line would go up for SDCC, but publishers attending would go down. It takes money to exhibit at SDCC, and not everyone can make it every year.
THE Manga Database
Matt Blind, the Charles Schwab of the manga world, spent the holiday weekend putting together what must the definitive list of manga published in english since 2000. If you followed him on twitter, you would know of his trials of updating the list, and having enough beer. But what he created is truly wonderous. You won't find a more comprehensive list anywhere else. And, being the generous man that he is, he has made it available for free in several different formats. If you've ever wondered just how many titles and/or volumes of manga have been published in english, this where you start. And it will make an AWESOME checklist, for those of us OCD enough to keep one.
Another Home Run for Manga
UK manga blogger Kimi-chan has an endorsement for manga as an aid for getting reluctant readers to pick up a book. Her son is lot like my youngest daughter. She would sit and read the video game manuals, but getting her to read prose books could be a chore. Kimi-chan's manga of choice was Ninja Baseball Kyuma, an all ages title from Udon Entertainment. If you're a teacher, librarian or parent, definitely read about her experience with her son and manga. One thing I found rather humorous, was her worrying about her son knowing about baseball. It's obviously not as popular in the UK as it is in the US and Japan. Is there a cricket manga, do you think?
NYT Best Seller List
And now, on to the 10 manga list. Twilight on top of the Hardback Graphic Books? Check. Naurto #1 on the Manga list? Vol 48 Check! Vampire Knight vol 10 at #2? NO! WHAT?! The #2 spot is held by The Last Airbender, the graphic adaptation of the movie now out in theaters. This is probably better, shorter, and cheaper than the movie. Vampire Knight vol 10 has to settle for #3 with its new best friend Soul Eater vol 3 at #4. Can manga from two different publisher mingle like this? Black Butler vol 2 might have something to say about this as it leaps two to come in at #5. And what's a butler without a maid? Maid-Sama vol 5 debuts at #6 to use some of that Bleach vol 31 which falls to #7. Proving that not all vampires are angsty is Hellsing vol 10 falls two to # 8, but hanging on for its 5th week. Who says manga is just for kids?! Naruto vol 47 reappears at #9, as does Yen Press' most impressive butler, Black Butler vol 1, serving #10. Wow. All of Del Rey's titles from last week got kicked, which in Fairy Tail's case is a crime. And speaking of crimes, two repeat offenders are two-timing the list! Can a butler beat a ninja? Stay tuned to find out.
Manga For Your Ears
Spiraken Manga Reviews
This Week at Manga Village
What I'm Reading
One Piece vol 41
One Piece vol 42
Vampire Hunter D vol 4
Culdcept vol 1
Gestalt vol 6