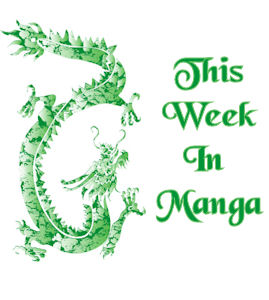 Manga Factory Direct
Anime News Network was able to talk to company representative Mika Ogata and get some more details about Manga Factory and their prior relationship with Aurora. Despite having been former employees and having volumes of the defunct publishers books for sale, there is no connection between Manga Factory and Aurora. They are completely new company. The books are just a way to get some funds in. They won't be making any announcements for licenses for the summer, but considering they've just started, that's understandable. And I think it makes total sense for former employees to band together like this and create their own company. They no doubt have the contacts and the knowledge of the US manga market, that executives back in Japan that were calling the shots didn't. This is like a manga fan's dream come true, and I hope they succeed, just to prove that dreams like this can still come true.
Manga at the Harveys
The Harveys are awards nominated by and chosen for people in the comics industry. Since this is for the US comics industry, manga doesn't make a big splash except in the "American Edition of Foreign Material" category. Two manga got nominations this year, and they are the two most likely to be read by comics fans; 20th Century Boys and Pluto, both by Naoki Urasawa. No one can deny the strength of these stories. Urasawa knows how to tell a tale and tell it well. On the surface it might seem hard to choose between the two, but not for me. I'm going for Pluto all the way. Winners will be announced at the San Diego Comic Con next weekend.
Is the Pressure working?
Found via Twitter. Another site that hosted scanlations has bowed to legal pressures and taken down all of the manga from members in the coalition. Manga Toshokan announced last night on their forums that:
we have been advised to remove all series serialized by the publishers in the coalition.
That doesn't mean they have taken down everything. There is still manga from publishers not in the coalition, as well as manhwa and manhua. Needless to saw (but I'll say it anyway), this has led to a lengthy thread that was at 77 pages as of this writing. Manga Toshokan realizes that they will lose a lot of their members because of this, and have a created a survey that they intend to send to publishers in the coalition. The questions seem worded mostly to say that sites like theirs are wanted and needed. While I don't doubt that a digital solution is needed, I don't think their survey will do much to sway anyone. It's a different tactic though. Better than screaming obscenities at the publishers or crying for a boycott.
Planning for SDCC
If you're going to the San Diego Comic Con this year, you'd better have a plan. With so many people and so many panels, there's no way to just "wing it". You'll never get to see anything but the backs of the people in line ahead of you who DID have a plan. Kate Dacey at the Manga Critic helps you get started with information on some of the smaller publishers with panel times and special signing they'll be hosting. Melinda Beasi of Manga Bookshelf has some of the activities for Viz and Tokyopop as well, which covers most of the publishers that will be there. I'd say it's sad to have a year without CMX, except they never got a far shake at the DC booth. They have one of the larger booths just for the comics (not counting the Warner Bros booth which is usually next door) and they couldn't even be bothered to give CMX their own table or put out samplers to promote them. It's been said before, but I have to say it again. Screw you, DC.
NYT Best Seller List
It's a new week, so that means a new best seller list. Starting from the top, we have Twilight in its usual spot of #1 of the Hardback list. It seems to be getting comfortable there, doesn't it? Kicking off the manga list, we have not only a debut title, but it comes right in at #1. Ouran High School Host Club vol 14 kicks Naruto vol 48 back to #2. The newest One Piece vol 54 also debuts at #3, officially ending the massive manga wave, which leaves last week's #1, The Last Airbender to fall to #4. Vampire Knight vol 10 takes a dive as well, from #2 to #5, and drops Soul Eater for Black Butler vol 2. I think they're better suited for each other anyway. The third debut is Shaman King vol 29 coming in at #7 while Black Butler vol 1 moves back up to #8. Gotta keep an eye on those vampires.  Fourth and Fifth debuts are both shojo. Nana vol 21 takes the #9 spot while Stepping on Roses vol 1 takes #10. This is quite a week as the girls rock the list and show the guys who's really in charge. Viz comes off the winner too, with 7/10 and 4 of the top 5 spots. I wonder what they'll have to announce at SDCC that will be appearing here soon (no doubt).
News From Japan
New Crayon Shin-chan Manga
Japanese publisher Futabasha has announced that a new series of Crayon Shin-chan will launch in the Sept. issue of Monthly Manga Town, where the original ran until the untimely death of its mangaka Yoshito Usui in a climbing accident last year. This new series will be done by Usui's assistants, and the series will be officially credited at "Yoshito Usui and UY Studio". It will be called Shin Crayon Shin-chan (New Crayon Shin-chan) and will continue to follow the madcap adventures of kindergartener Shin and his family and friends. I think this is a nice way to give tribute to the mangaka. Though I'm starting to think the series itself is cursed in the US. It was first licensed by Comics One, and then picked up by CMX, neither company even got close to completing its run. Maybe this is a series best left unlicensed.
Manga For Your Ears
Manga Out Loud
Sesho's Anime and Manga Reviews
This Week at Manga Village
What I've been Reading
Paradise Kiss vol 1
Chi's Sweet Home vol 1-2
Neko Raman vol 1
Bakuman vol 1