Ouri and Father Olivier are together again, but they're not about to live happily ever after quite yet. Olivier's nemesis Ender is back, and even the deadliest dark magic may not be enough to slow him down. he's determined to bring Olivier back to his Order and force him to face up to the crimes of his past, but Olivier himself has another plan in mind. his best chance at redemption may be hidden somewhere in the forbidden realm of G.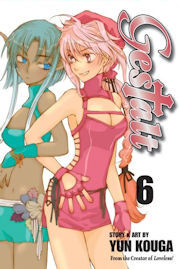 By Yun Kouga
Publisher: Viz Media
Age Rating: Teen +
Genre: Fantasy
Price: $9.99
Rating:






Buy This Book
Gestalt is an average fantasy/D&D-esque story complete with a group of adventurers that include a priest, a sorcerer, a dark elf and a knight. They are on a quest to find the realm of G. They are being chased by their nemesis and have to fight monsters along the way. It's a very generic plot that did make it easy to jump into the series at volume 6, but doesn't do much to make for an overly interesting story.
Fortunately, the characters make up for it. I got to like most of them. Like the plot, the characters aren't very complex but definitely entertaining. The interactions between Ouri, the hero/heroine and Suzu the dark elf were fun. Ouri was angsty for about half of the volume, but it was a tolerable angst, since he wasn't totally bemoaning his fate and trying to do something about it. Father Olivier is the very generic kind, gentle priest with a dark side, but I found I liked both sides, though Dark Olivier does win out slightly.
It's mainly these three characters for two-thirds of the volume. Shazan, the knight, goes on a side quest and makes the jump suddenly in the middle of a fight between Ouri, Suzu and Dark Olivier against Ender. Shazan is searching for the Book of P and goes to a dungeon to face the Wings of Death to try to get the book. For two chapters we go through the whole story of Wings and Shazan helps the ghost Mifa to save Wings and retrieves the book. While I really enjoyed these two chapters, almost more than the main story, the transition to it and then back to the battle were not done well at all. They are very abrupt, especially interrupting a fight just as Dark Olivier comes out, and they are just as abrupt coming back, not even picking up where the battle left off, and just starting in a completely different place, with new characters just wandering in from the street (literally)! I also didn't care for the gender-bending/BL aspect of the title. I don't care for either and to have both thrown out at the same time, made for some less than appealing moments.
The art isn't bad. Everyone is bishie, especially Father Olivier. Everyone, male and female has long, flowing hair, but it isn't difficult to tell the boys from the girls, as the women are all dressed in skimpy outfits and have ample breasts. This is of course part of the fan service that this volume serves up, but it's not as blatant as it could be, so I can take it or leave it. I did like some of the monsters. Kouga came up with some fairly cool designs for them. I especially liked Wings, with the large eyes on her head.
Overall, Gestalt is an average title. There's nothing new in the story or characters, but they are entertaining enough to kill some time, and you won't feel it's been wasted. This isn't a must have title, unless you are a fan of Kouga's work and/or a completest.