In the news this week: manga print on demand, more details on DMP's Digital Manga Guild and the changes in Shonen Jump, a possible manga portal for English readers, news stories from Japan, and all the rest of the usual features.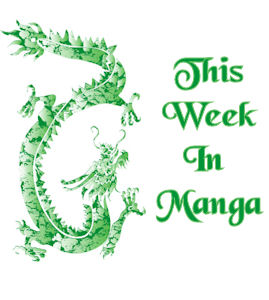 You Demanded It
Some time ago, Tokyopop had asked fans if they would be willing to do Print On Demand to get volumes in some of their lower selling titles. Apparently enough people said yes that they are actually going ahead with it. Johanna Draper Carlson of Manga Worth Reading has some details from what she found by exploring the site. It appears that POD manga will be more expensive than larger print run titles, but to get that last title of that series that it seems only you like, wouldn't you be willing to pay a little more? Tokyopop Editor Lillian Diaz-Przybyl pops into the comments and explains whats been going on and why there hasn't been an official announcement…yet. I do hope this works out for Tokyopop, even though most of the titles I was looking for back when they asked were Kodansha titles that got yanked from them and never finished (Dragon Voice, Kindaichi Case Files), but I might be willing to pay for more tactics and Genju no Seiza if they need the help.
Updates on Some Recent Stories
Last week I mentioned the announcement of the Digital Manga Guild by DMP at yaoicon and the upcoming changes for Shonen Jump from Viz. A week later and now there are more details on these stories. Deb Aoki, manga.about.com's roving reporter sat down with Hikaru Sasahara, CEO of Digital Manga Publishing and got more details about the venture and what he hopes to gain from it for DMP and the fans.
Joel Enos of Viz was busy as first ICv2 interviewed him about the changes at Shonen Jump as well as their new digital initiative as did Deb Aoki.  Deb also has a preview of several of the new pages from the upcoming issue of Shonen Jump. A lot is said in the interview, but there still aren't a lot of details about things people have been asking, such as hold long chapters will be up online. And if Viz is really serious about developing domestic titles, putting them online for subscribers to see first I think would be good way to introduce new talent. I hope I can see these for myself soon. My subscription issue is really late now.
The Manga Is A Lie
ANN reported late Thursday that 37 Japanese Publishers were working together to create a portal site to distribute manga digitally in North America. The site is planned to be open with the year, with full distribution slated to start next March. Now THIS is totally awesome news! The list of publishers is long, and filled with names very familiar to American fans such as Kodansha, Akita Shoten, Kadokawa Shoten, and Shueisha and Shogakokun. There isn't a release of prospective titles yet, but just looking at the list of prominent publishers, you just know there will be some good titles going up. There also no news about whether it will be a pay site, or if it will be streaming or download, but this is the BIG step Japanese publishers have needed to take battle the scanlation aggregators. This is a real step forward, and I hope it turns out to be a successful one.
News From Japan
Super Spinoff for Kids

Shueisha has announced the launch of a new manga magazine, Super Strong Jump. Targeted to kids probably 8 and under, it will feature characters from Weekly Shonen Jump titles in their own spinoff titles. Characters will include Tony Tony Chopperman from One Piece, Rock Lee from Naruto and Toriko from Toriko. Other titles include Reborn! as well as titles from the video game magazine V Jump, Digimon Xros and a Dragon Quest spin off. There is a lot of potential licenses here, with so many younger kids wanting to read the titles their older siblings and friends at school are reading. And it gets kids reading manga early. This demographic as well as the mature demographic remain under represented in the US market. It will probably be easier to reach kids than adults though. I agree somewhat with one commentor on a post on Jason Thompson's Live Journal. I am a genre reader, and will continue to be no matter what my age, so I'd like to see more mature genre titles.
One Piece Does It Again
The release of volume 60 of One Piece breaks records again. Oricon, a market survey firm in Japan, reports that it sold 2 million titles in 4 days, beating the previous record set by One Piece volume 59! One Piece is a series that starts out good, but really hits its stride in the mid thirties, and has recent sales records has shown just keeps getting better.
Want to know more? Then check out the Manga Moveable Feast at the end of the month, which will feature One Piece. It's hosted by David Welsh over at Manga Curmudgeon.
NYT Best Seller List
New Releases from Viz means changes on this week's list. Naruto vol 49 reclaims the top spot as Black Butler vol 3 moves up one to #2. Negima! vol 28 falls back two to #3 while Bakuman vol 2 debuts at #4. The second debut title from Viz this week is D.Gray-man vol 19 at coming in at #5, while last week's #3, Soul Eater vol 4 falls three to #6. Black Bird vol 6 moves back up two to #7 as xxxholic vol 16 falls back three to #8. Hetalia Axis Powers vol 1 falls another two to #9, but still manages to hold on, while the final Viz debut title, Otomen vol 8, comes in at #10. Yen Press was the loser this week as Viz's debuts knocked out 3 of their titles, including Nightschool. At least the OEL's final volume got one week on the list even though it really deserves more. I would love to see more OEL titles of this quality, if only the publishers and fans give US creators a chance.
Manga For Your Ears
Spiraken Manga Review
This Week At Manga Village
What I'm Reading
One Piece 2-4
Tale of a White Night