What with Thanksgiving being this week, it seems the mangasphere has taken the week off, so it's going to be a short edition of the news. So we've got shopping advice, eating until you explode, OOP and doujinshi digital manga in Japan, podcasts and the Manga Village roundup, all after the bread…err…break.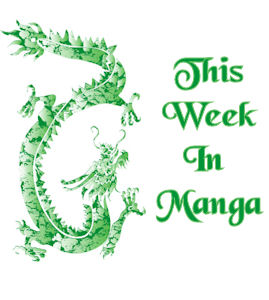 Gift Guides-A- Go-Go
Daniella Orihuela-Gruber over at All About Manga is bringing back the Great Manga Gift Guide, which was inspired last year by the complete lack of manga on the NYT graphic novel gift guide. Her introduction post is here , as well as her first week roundup, which can be found here. The complete archive can be found here. I particiated in the last year's gift guide and will again this year. I'm going to try and keep the same categories as last year, but it's turning out to be a little harder. I just want to put Chi's Sweet Home in every category! It fits…
Putting On the Pounds
It was Thanksgiving on Thursday in the US, and that means lots of good food and family gatherings. The mangasphere certainly took notice of this. I had my own blog post dedicated to the great pasttimes of Thanksgiving, bread, meat, dessert and football. Daniella at All About Manga has instead a warning for food loving manga readers. And Melinda, of Manga Bookshelf, reminds us in her Failure Friday, that fat personages are people too. It's hard not to indulge, especially when a holiday has been tailor-made for it like Thanksgiving, and you have relatives going all out to tempt you with old favorites and new reciepes. We had Elk as a selection this year. It was…different. But the Baked Corn was back as well, and I had to have two helpings as well as putting some in my take-home bag.
News From Japan
Website for OOP and Doujinshi Manga
Ken Akamatsu, the creator of such titles as Love Hina and Negima! is testing a website where he wants to have out-of-print manga available for download and monetized by advertising. This week he has announced he wants to add parody doujinshi to the site. Ad revenue for the doujinshi would be split between the original creators and the doujin artists. Right now the site in is beta, with only Love Hina volumes available, and it's only in Japanese, but the titles are available DRM-free which I think is a great step that Akamatsu is taking. And preserving OOP manga AND making them available to new generations who may have missed them is a great idea! We'd love to see the same thing over here for our OOP manga! The doujinshi could be interesting too. We'll have to wait and see if the creators will go for it.
NYT Best Seller List
It's a new list this week with not so many new additions. A new top title reigns over all as Alice in the Country of Hearts vol 5 takes over #1, pushing the Ninja boy Naruto vol 49 back to #2. Black Butler vol 3 and Bakuman vol 2 both move back one to #3 and #4 respectively. Negima! vol 28 also moves back one to #5 while the pretty boys of Hetalia: Axis Powers vol 1 holds steady at #6. The lone debut of the week comes from Del Rey and their Ninja Girls vol 4 at #7 while Soul Eater vol 4 digs in at #8. D.Gray-Man vol 19 falls the furtherest as it goes from #5 to #9, and Black Bird vol 6 perches at #10 again. It was a fairly steady week this time, with most titles holding on to their spot or only getting pushed back one. Viz holds the most spots, but it's not a majority. Tokyopop, Yen Press and Del Rey have 2 each, making for a good variety.
Manga For Your Ears
Manga Out Loud
Sci-Guys
Spiraken Manga Review
This Week at Manga Village
What I've Been Reading
Dorohedoro vol 1
Dengeki Daisy vol 1
March Story vol 1
Time and Again vol 4
One Fine Day vol 3
Shonen Jump December 2010
Yen Plus November 2010