Thanksgiving is a traditionally US holiday. It's a harvest festival that has roots in a religious celebrations of family, friends and a bountiful harvest. It has since moved away from those beginnings, and today, Thanksgiving is seen as a time for families to get together, to eat lots of turkey, and to watch football. If you're not into all of that, but still want the day to have a Thanksgiving feel, here are some manga that can put you into that Turkey-Day mood.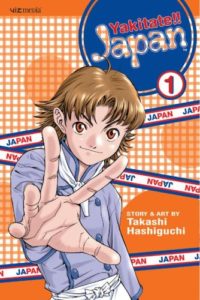 Bread is a staple of most American meals, so no Thanksgiving can be complete without some hot rolls. And of course, there's the stuffing for the turkey, and the weeks of turkey sandwiches afterwards. So we start with Yakitate! Japan, a battle manga about bread. Kazuma Azuma wants to create the national bread of Japan. The series starts with him going to Tokyo to work at Pantasia, and then follows his exploits with his co-workers. originally, Yakitate!! Japan explains a lot about bread making the baking industry, but as the series goes on, it gets heavily into gags, especially puns, of which the title is included.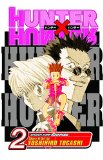 There are plenty of dishes to go with the main course at a Thanksgiving dinner. Finding the right combinations for a family isn't easy. In the world of Hunter x Hunter, Hunters are people who specialize in finding rare and/or difficult things. One such Hunter is the Gourmet Hunter, who specializes in rare ingredients to create a special meal. Gon, the protagonist of this title, as part of his Hunter exam, must satisfy two Gourmet Hunters in order to move on. This turns out to not be easy, as they are very picky, but Gon and his friends to finally succeed. This part of the exam can be found in Volume 2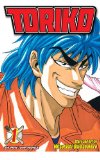 The main course, is of course, the turkey, whether it's roasted or fried, or however else you like to cook your turkey, no Thanksgiving can really be complete with that golden bird on the table. Toriko is another title that goes for the meat. Toriko is a Gourmet Hunter in the same vein as Hunter x Hunter. In his world, gourmet food is all the rage, and hunting the best and most rare beasts is left to Hunter like him. Toriko himself is also after the ultimate dinner course with only the best of the best ingredients making it up. Komatsu, a timid chef joins Toriko in his hunts and search for perfect ingredients. This title is very over-the-top, with lots of time spent eating, sometimes leaving the characters in an overstuffed stupor, also a common occurrence at Thanksgiving.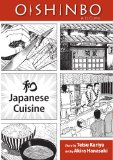 If you're not into the traditional Thanksgiving dinner, there are other options. Oishinbo is about Shiro Yamaoka's search for the ultimate menu for the 100th anniversary of Tozai News newspaper. In the a la carte series Viz released, you can enjoy Japanese Cuisine, Fish, Shrimp and Sashimi, Ramen, Rice and even Saki. There lots of different dishes in each volume, and the stories present them in a way that makes learning about the food and it's preparation interesting. Yamaoka is a great character to follow, though the battles with his father can be a little tedious, the dishes they feature more than make up for it.
For dessert, check out my Themed Manga post Trick or Treat and scroll down to check out titles Antique Bakery and Kitchen Princess, both of which feature lots of pies and cakes to finish off your Thanksgiving feast.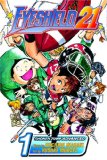 Now that you've stuffed yourself and are in a Turkey coma, it's time to move on to the other Thanksgiving tradition; football. There's only one manga that can satisfy this need; Eyeshield 21. It's about Sena Kobayakawa, who after entering Diemon Private Senior High School, is spotted by the captain of the American Football team, Yoichi Himura. He isn't big or power, but he is fast and agile, skills that land him as the teams running back. Because Yoichi is afraid some other team might try to recruit him away, he has Sena wear a helmet with a green-tinted eyeshield, so no one will be able to see his face. The Diemon team then goes on to face several different school teams as they struggle to go to the Spring and then Fall tournaments. The teams are a little wacky, with plays that sound more like shonen attacks, but the series is a lot of fun, and if you keep from taking the sport too seriously, you will really enjoy this title.
So, whether you enjoy Thanksgiving for the food and family, or are just spending a quiet night at home, this list will hopefully get you through the day.