In the news this week; the November/December Manga Movable Feast begins! Critics become critical of the manga blogging community, but not in a constructive way, more digital news from both sides of the Pacific, news from Japan, podcasts, and the Manga Village Roundup. So make with the click-y…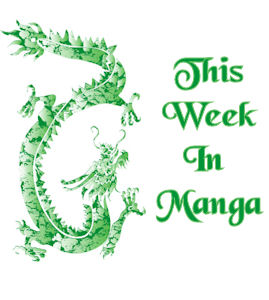 Manga Movable Feast Sets Sail
This month's Manga Movable Feast started on Sunday, and features a personal favorite of mine, One Piece. The manga started here in the US in 2003 with the debut of Shonen Jump magazine and earlier this year got a massive release to catch it up closer to the Japanese releases. It's also probably the most under-rated of the Shonen Jump titles, probably partially due to the bad dub it got originally from 4Kids Entertainment. Naruto and Bleach had decent dubs from the start, and the manga took off with them. One Piece did finally get a good dub, but it had missed the train. So hopefully this MMF can help rekindle the love it deserves. It's hosted by David Welsh of Manga Curmudgeon. You can read the intro post here, and the archive of all the participants here. And there are a lot of posts to read, covering a wide range of topics, including not participating, so be warned. A lot of people participated in this. I even had multiple posts for it. Two here at my personal blog, and two at Manga Village. It's a great series with a lot to talk about. Definitely check this one out!
Fanning the Flames
Moto Hagio and the collection of her short stories published here this year by Fantagraphics has garnished a lot of attention in the mangasphere, but no set of reviews had become as infamous as those written by Noah Berlatsky for the Hooded Utilitarian. His criticism raised the ire of a lot of bloggers. His final article looked at the way other reviewers had reviewed the series, which included calling out several bloggers and calling their style of reviewing "completely useless" and likening the manga blogging community to book clubs than critical writing. Naturally, this wasn't taken very well by the mangasphere. Like most manga bloggers, my reviews are about whether I like the book or not and my reasons why. I'm not trying or interested in going through a critical, line-by-line analysis of the books I read, not even the "important" ones, because, these are books I'm reading for pleasure, not to get my degree in literature. I'll point out themes when I see them or find them interesting, but that's not going to be the focus of my reviews. I write a blog to share my love of manga, not try to turn it into a thesis. While I might enjoy reading such reviews occasionally, I wouldn't want to do it on a regular basis. I also don't find reviewers that rip a book apart and then say "but I really did like it" to be useful.
Dialing the DHD
While not completely relevant to manga now, it may be in the future. Dark Horse Comics released more information on their digital comics initiative. First announced at NYAF/NYCC, there hasn't been a lot of information forthcoming from Dark Horse. This week they have announced price points, how it will involve brick-and-mortar stores and what titles will be available at launch. As manga fans, we can be hopeful that this works out for Dark Horse, and we can start seeing our manga titles appear this way as well. While Dark Horse doesn't have a huge library of manga, they do have a lot of premium titles that digital might be able to spark back to life (What's Michael if you please?).
Morning Becomes Digital
Morning, a senien manga magazine published by Kodansha will soon have an English version of the site. This is the first step in creating multi-language sites that will make Morning manga titles available to a world-wide audience. The revamping of the site also includes the availability of mobile apps for both the iPhone and Android operating systems. This is a good step by Kodansha. They really do seem to have recognized that a world-wide audience exists for the works, and it's a good idea to reach out to them. Now, if only their physical distribution could have as much progress as their digital seems to have.
News From Japan
Girls Are Doin' It!
Super Jump, a senien manga magazine from Shueisha has spawned a spinoff issue called Girl's Jump. It will feature one-shots all drawn by female manga artists. It's quite a list of artists, including Kumiko Suekane, the creator of Afterschool Charisma and Blood+ Adagio. This is really pretty cool, having female artists being recognized and publishing in something that isn't marketed to girls. I hope this does well, as we see more. Maybe an anthology to introduce some of these artist, eh Viz?
One Piece to Rule Them All
Oricon, the marketing research firm has announced the manga ranking for 2010. And sitting at the top of them all, is One Piece (subject of this month's MMF). Volumes 56-60 take up the top 5 spots, with a total of over 10,000,000 copies sold between them alone. Overall, One Piece has over 200 million copies in print. If this doesn't prove the awesomeness of this series, I don't know what would.
A look at all the top-selling manga series in Japan for 2010 shows that US licensers have been paying attention to the rankings, as every single one of them are available in English. Eight of them are held by Viz, and two by Del Rey, though not necessarily the ones that hit our top charts regularly.
NYT Best Seller List
Holiday shopping is in full swing (just try to go to a mall right now), but has all that buying affected the list any? Lets see… Naruto returns to be king of the list again as volume 49 takes back #1, while Tsubasa: Reservoir Chronicle vol 28 debuts at #2. Black Butler vol 3 holds on to #3 while last week's #1, Alice in the Country of Hearts vol 5 falls three to #4. Hetalia: Axis Powers vol 1 moves back up one to #5 but Bakuman vol 2 falls back two to #6. Negima! vol 28 loses its hold on the top 5 to fall back to #7 as D.Gray-Man vol 19 moves back up one to #8. Black Bird vol 6 hops up one to #9 while Ninja Girls vol 4 falls back three to #10. Del Rey, with the last of their titles under the Del Rey Manga, imprint gains another spot on the list, taking up three. It's like a last hurrah for the defunct imprint.
Manga For Your Ears
Manga Out Loud
Sesho's Anime and Manga Reviews
This Week At Manga Village
What I've Read
Angel Sanctuary vol 1-4
Tena on S-String vol 4-5