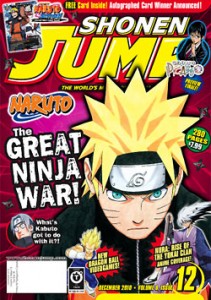 This month's installment of the Shonen Jump drive-by is late because my subscription issue seems to have gone astray in the mail, and had to go buy one. The subscription provider's answer to a missing issue is always "We'll extend your subscription by a month." But of course, that doesn't help me  get the mag! Fortunately, my local Barnes & Noble still had issues, so I could pick it up. The big news for this issue has already been all over the interwebs, but I'll mention it here too. There will be two new titles added to the magazine. FINALLY! Psyren and Yu-Gi-Oh! 5D will start in the next issue, January 2010. I'll be fighting to get the issue first now. My youngest daughter has discovered Yu-Gi-Oh! and has already gone through all my old Shonen Jumps. The other big news is that suppliment titles will be put up online for subscribers only to read online. There isn't any more information on that other than some of the titles will be Bakuman, Nura: Rise of the Yokai Clan and Toriko. We also don't know if these will be full series serializations, how long they will be available online, or just extended previews. Next issue will hopefully have more infor about that.
The layout at the beginning has been refined some, as the video games and anime sections are cleaned up a little, and become easier to read. And there's a handy guide telling you where you can find Shonen Jump anime online. It's on a quick and easy to read grid, if you like to watch your anime online.
The manga starts out with the final preview chapter of Genkaku Picasso. Sugiura's problem is solved, and it turned out to be a rather unexpected resolution. The picture of Sugiura's heart afterword has a lot of hope in it. The picture of his father's heart was a nice one too. I enjoyed this preview, and this title will go on to my want to read list. I don't know it it's a must read, but I enjoyed these chapters enough to want to see how a whole chapter stands up.
Naruto is next with Sasuke bailing with Madara and takes his next step down to total darkness. The plot to get the Eight-tails beast by the Akatsuki, while the Daimyos of the 5 different lands ratify the alliance. With Danzo's death, the issue of a new Hokage comes up, but proves to be less of an issue than thought. Naruto gets summoned back before the Giant Frog Sage and gains the key to the Fourth Hokage's seal, allowing him to be able to free the Nine-Tails. Then Kabuto makes his move toward the Akatsuki. These chapters are all about tying up old threads and starting up the new ones for the comimg ninja battle. They feel a lot like moving pieces on a chess board. There's plenty of information expounded, but not a lot of action. It's the lull before the storm.
Bleach follows up with Ichigo continuing to get his butt kicked, Pesche and Dondochakka not getting to be as impressive as they could have been (which I consider disappointing), and the a suprise rescue comes in the form of several of the captains to rescue Ichigo and the gang. And of course, the captains are matched up against espadas that match their own talent. Kenpachi takes on Nnoitora, Mayuri against Szayelaporro, and Byuakuya against Zommari. Retsu and her assistant are only there to heal the wounded, friend and foe alike. The chapters in this issue end at 299, so the new year can start with 300 which looks to be another big, blowout fight. It's a lot of posturing between the Captains and the espadas, as you would expect. I really didn't care for the way Kubo had Nnoitora "gag" Orihime. It's too easy to take it the wrong way.
Ultimo finishes up with Yamato returning from the past right back into the fight he just left. He tries to save Iruma again, but it's all in vain. Musayama takes a hit and Jealosy tries to claim Yamato for being incompetant "the supreme evil". But he's stopped by what, or who, is in Yamato's heart, and the past is set up to repeat itself again. Yamato and Musayama are saved by the Doctor Koun, who is parterned with Pardonner, on of the six perfections. He leaves with Ultimo while two other perfections, Machi and Hiroshi speak with the doctor. I was hoping Ulitmo would get better with the time traveling, and for a moment it almost seemed that it would, but a return to the present sends it back to the same old, same old. I don't see any hope of this series getting better.
One Piece ends the issue with even more serious fighting. I didn't think things could get more tense than they already were, but Oda managed to do it. The struggle to reach Ace on the platform continues as White Beard's pirates seem to be losing to the navy. Ace is about to lose his head when Luffy comes racing in, unintentionally using his Haki, which gives Ace a few more minutes, and gives him the full support of White Beard and his men. He nearly makes it to Ace but is blocked by Garp. It becomes grandfather vs grandson, but Luffy doesn't stop, and it seems blood is thicker than water. Now it's a race to free Ace and it becomes a tit-for-tat as everything Luffy tries is countered by the Navy, until Mr. 3 comes to the rescue. Then it's Fire Fist and Straw Hat against the Navy! I have to say, I was surprised by this outcome, but I didn't take Luffy's haki into consideration. I was going by his bute strength, which didn't seem to be enough. I love that Luffy just continued to earn the respect of the pirates and scorn of the navy, when all he wanted to do was save his brother. This has been some really awesome action, but I think I'm ready for a breather, and I'm sure Luffy is too.
I'm really looking forward to the next issue, with all the changes that have been promised. Yu-Gi-Oh! GX didn't impress me (but the manga is waaaayyyy better than the anime), so hopefully 5D will be an improvement. And having a sci-fi oriented title in the magazine with Psyren will hopefully shake things up a bit. SJ has been dying on the vine with no new blood for so long. This time when they call the changes an evolution, they can actually mean it.