Continuing the tradition from last year, I've decided to put together a new gift guide for the manga reader(s) in your life. I changed up some of the types this year, and am featuring all new titles. Check out last year's guide for some other types that might not be on this list or for more variety. And check out All About Manga for other lists part of the Great Manga Gift Guide for 2010.
Nightschool: The Weirn Books – For the Non-OEL Manga Reader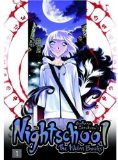 Alex is a type of witch known as a weirn, born with an astral spirit that is always with her. One night her older sister disappears while working at the Nightschool, a school for creatures of the night. In order for Alex to find her, she must enroll in the school, and that's where her really troubles begin. A lot of manga readers scoff at OEL manga for being inferior. Nightschool is far from that. This title is well written and beautifully drawn by Svetlana Chmakova, the creator of Dramacon, another well done OEL. Sveltana's art is influenced by manga, but is tempered in her own style. Nightschool is a rich world filled with interesting characters and a mystery to be solved. If ever there was a case for giving OEL a chance, this is Exhibit A.
Time and Again – For the Non-Manhwa Reader
Baek-On is a young, but talented exorcist. He travels the country with his body-guard Ho-Yeon, trying to help rid people of the karmic grudges left behind by ghosts and spirits. While it seems like this is just a ghost hunter title, there is a deeper story underneath about Baek-On's past and why he has chosen the path he now walks. Many of the stories are cautionary tales of how our actions in the past can affect our futures. Time and Again is steeped in the culture of Korea, but it's tales of love, betrayal and revenge are universal, and are relatable no matter what the culture. Baek-On is great lead with a wide range of emotions going from gloating to anger to despair. The art is beautiful, with the leads being bishonen. Definitely not a case against them. Like OEL titles, manhwa isn't given the credit it's due. This title is another good case for the category.
Taimashin: The Red Spider Exorcist – For the Horror Reader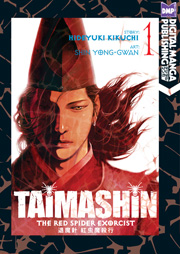 Akamushi is a shaman with the powers of a giant spider. He uses his abilities to fight the demons of the underworld, and Megumi, an average office worker needs his help. She is being pursued by demons, but doesn't know why. Asking for the beautiful Akamushi's help, Megumi can only hope Akamushi has what it takes to defeat the monsters that have been chasing her. Akamushi is a fascinating character, and there is a lot more to him than just saving damsels in distress. This is an original ongoing series from Hideyuki Kikuchi, the creator of another of DMP's horror titles, Vampire Hunter D. Hideyuki comes up with good stories and disturbing monsters, while Shin Yong-Gwan's art brings them to life with just enough gore to be scary without going overboard. Just be careful of the 16+ age rating, it is deserved, and not just for the horror.
7 Billion Needles – For the Sci-Fi Reader
While on a school trip, shy and rather anti-social Hikaru sees a fireball fall from space…right on to her. She wakes up, thinking it was a dream, but then starts to hear static in her headphones, which she wears all the time. The static soon becomes a voice, and Hikaru learns that she is the host to an alien. The crash of his ship was the cause of her death, and though he brought her back to life, she needs him to stay alive. And he has a mission. He must find another alien who is bent on destruction, and could be any of her school mates. Hikaru must get over her timidness and try speaking to her classmates to find the killer alien. Based on the 1950 sci-fi novel written by hard sci-fi writer Hal Clement, this version updates the story for a modern audience. Even though there are some differences, the sci-fi essence of the story remains, telling a fascinating and compelling story. Sci-fi fans, especially those that enjoy hard sci-fi will really enjoy this title.
Natsume's Book of Friends – For the Yokai Lover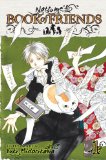 Takashi is a teenage boy who has been able to see strange creatures, known as yokai, for as long as he can remember. He inherits his grandmother's Book of Friends, a book filled with the names of yokai that give him power over them. As a result, yokai are after Takashi to either claim the book or reclaim their names. With the help of Madara, a powerful spirit who also wants the book, Takashi starts to understand yokai better as well as learning to get along with humans better. There are a lot of different and interesting yokai in this title, some who are kind and harmless, and some who are definitely sinister. It's a great way to see yokai in action, and not just read about them.
Chi's Sweet Home – For the Cat Lover, Kids Under 8, Everyone
And the cat lovin' just keeps on comin'! You can't be a cat lover and pass up this title. Chi is a little grey kitten who gets separated from her mother and siblings, and is adopted by a family with a young boy named Yohei. The volumes are filled with short chapters of Chi's adventures in the Nakamura household. She does all of the silly things you'd expect from a kitten, such as playing with paper and grocery bags, sharpening her claws on all the things she's not supposed to, and generally causing chaos through the house. Chi's Sweet Home is like a love letter to cat lovers, and no house with cats should be without it.
This series is also very versatile. With being filled with mostly pictures and just some dialog, young kids can enjoy Chi's antics, and non-cat lovers can laugh and roll their eyes at Chi's overwhelming cuteness. It's the perfect stocking stuffer!
Twin Spica – For Tween Readers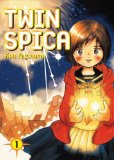 Asumi has dreamed of becoming an astronaut for as long as she can remember. With the help of her "imaginary friend" Mr. Lion, she applies for Japan's Space School. She has a lot of obstacles in her way, but her boundless enthusiasm and determination win her friends and allies to help her along the way. Asumi's story and journey is filled with hardship, drama, but also a lot of hope and laughter. Both boys and girls will enjoy reading about Asumi and her friends, and the dream of space is something everyone can relate to.
One Piece – For Teen Boys
One Piece is an epic story of one boy's dream to become the greatest pirate in the world. Monkey D. Luffy, a rubber boy thanks to the power of the Gum Gum devil fruit, sets out to see to find the One Piece, and along the way builds a motley crew of a former Pirate Hunting swordsman, a thief navigator, a cowardly marksman, a wannabe playboy chef and a reindeer doctor. One Piece is a great story, with fun and delightful characters that boys (and girls) will come to love quickly. The world of One Piece is filled with strange and imaginative creatures and enemies for the Straw Hat Pirate crew to fight, and they will fight a lot, but the humor and story keeps the fighting from becoming boring. With over 55 volumes, the series can seem daunting, but it's worth the effort.
Story of Saiunkoku – For Teen Girls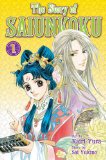 Shurei comes from a prestigious, but poor family in the land of Saiunkoku. She is asked by the Emperor's advisor to become his consort and try to convince him to take more interest in ruling the country on his own. Shurei initially agrees for the compensation, but soon finds she wants to help to Emperor as a person, and not just the head of the government. Shurei is a fantastic lead and a great role model for girls. She is smart, pretty, more than capable of handling all the men she finds herself surrounded by. The men themselves are all bishonen, but with just as much  wit and strength of character as Shurei. It's a smart, fun series with romance and political intrigue mixed together to make on great series.
Bunny Drop – For Adult Readers
30-year-old bachelor Daikichi goes to his Grandfather's funeral and discovers his grandfather had an illegitimate daughter. After hearing the way his relatives try to pass off responsibility for caring for the girl, he spontaneous decides he will take her in. Thus begins Daikichi's journey from lone bachelor to parent of a 5-year-old girl. He has to make several adjustments to his life to accommodate her, such as taking a demotion at work. He begins to see that being a parent is a lot of work, but also a lot of fun. This title takes a realistic look at sudden parenthood, showing Daikichi having to buy clothes for a young girl, find daycare, and a school as well as exploring his doubts about taking on the responsibility of caring for her and if he really did the right thing. It deals with issues adults and parents can relate to. The art matches the story in its realistic feel, and is just as charming.