It's been another quiet week, with just a few stories, all being digital related. I almost think I should have just done a Digital Friday post with these stories. Of course, I almost didn't get this posted at all. I just want to say, that migraine headaches SUCK! But, please do still enjoy stories on digital guilds, advice, revamps, and some Japan news, and of course, all the regulars you've come to expect; podcasts and the Manga Village roundup. More after the break.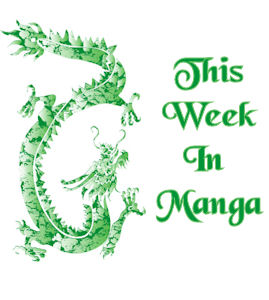 DMG!
Publisher's Weekly spoke with Hikaru Sasahara about their Digital Manga Guild initiative, basically summing up the information from NYCC/NYAF as well as some new tidbits about the sign up process. The article also originally included the name of three publishers supposedly working with DMP on DMG. However, not long after the article came out, DMP released a statement saying the publishers named were incorrect and the Publisher's Weekly article as incorrect. The article has since been edited to remove the references. Deb Aoki at manga.about.com rounds up the story, including speculation of DMP in talks with Bitway, a Japanese cellphone manga publisher. The big question in this story is whether Publisher's Weekly really got the participating publishers wrong, or if the names were just released prematurely, and the companies freaked when they saw their names associated at this point. Obviously DMP has to tread lightly with this new venture, since they are trying something so new, but it's really kinda sad that publishers are so afraid to try something new (assuming the latter is true). I understand that publishers are conservative at best, especially Japanese pubs, but we're gonna know who they are sooner or later, when titles start coming out. So what's so bad about sooner?
On Going Digital
Daniella Orihuela-Gruber gives some advice to publishers by naming three things they need to go digital. The things she names are pretty essential to success; open platform,regular serialization, and a good website. Well, publishers should have that one anyway. I would really appreciate a publisher (of anything) to at least have the books they are publishing available somewhere online. You would be surprised by how many don't even have a blurb. In the comments, there is more discussion about promotion and keeping paper around (which I don't think is going anywhere anytime soon). Favor goes to digital copies with print copies, but that doesn't solve the problem of people who just want digital. It makes the book portable, but a lot of people don't just want portable. Some want to just read without taking up shelf space. I would like to see a subscription/loan model, where several titles/full series' are available to read with an option to download and/or buy the physical copy.
Is It Really an Evolution?
Viz has revamped their website to go with the changes in their Shonen Jump magazine. The new site is simpler and much cleaner than the old design. It has more of a blog look to it. Links to sample titles are right at the top of the front page. And it seems that Nura is the only title getting online serialization, while Bakuman and Toriko are only extended previews. The previews are of the new titles when they come out, but again, they are only previews. Most of the titles available are only the first chapter, except for One Piece, which features the full first volume, and Yu-Gi-Oh! 5Ds, which doesn't have a preview up yet. They are really pushing hard for subscriptions, as every page has a post pushing for it. The categories on the site match what's in the magazine, with news, anime, manga (obviously), card and video games. While this the change is all nice and all, is it really the evolution they keep pushing it to be? I don't think so. It's a nice change, sure. And getting more online serialization just for subscribers is a good thing, but it's not that big of a change. Now, if it had been full serializations of Toriko and Bakuman, as they lead people to believe, then it might be. Pimpin' the website isn't an evolution. At least it wasn't a de-evolution though.
News From Japan
More Manga on J-Comi
Ken Akamatsu's experimental site for out-of-print manga just got some new partners. Publishers Shueisha and Kodansha have agreed to collaborate with J-Comi and put some manga up. Three titles have been volunteered by the publishers for the second round of beta testing. This is good news that publishers see some worth in this venture and are willing to give it a go. None of the titles will be major ones, I'm sure, but it's good to seem them testing the waters more.
NYT Best Seller List
Jumping right into the list, the top seller this week is again Naruto vol 49 at #1 with Tsubasa: Resevoir Chonicle vol 28 holding tight to #2. The manga verison of Spice and Wolf vol 3 debuts on the list at #3 while Hetalia: Axis Powers vol 1 claws its way back up to #4. Alice in the Country of Hearts vol 5 falls back one to #5 while Black Butler vol 3 falls back 3 to #6. K-On! vol 1, the new 4-koma from Yen debuts at #7 along with Maid-Sama vol 7 from Tokyopop coming in at #8. Maximum Ride vol 3 returns to the top ten at #9 as Bakuman vol 2 falls the furthest, from #6 to #10. Yen Press gets to rule the roost this week with two debuts and one returning best seller. Tokyopop is right behind holding three spots. Viz only holds two, bookending the list, but with a big chunk of titles out this week, I expect that to change on the next list.
Manga For Your Ears
Manga Out Loud
Sci-Guys
This Week at Manga Village
What I'm Reading
Kamisama Kiss vol 1
Record of a Fallen Vampire vol 8